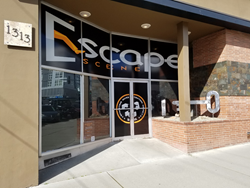 The first escape room in Everett is celebrating their 1st Birthday!
EVERETT, Wash. (PRWEB) April 24, 2018
Escape Scene is the first and only escape room currently in Everett. It is also the only escape room in Snohomish county to have exclusively private bookings. Escape Scene is a place where friends can celebrate a birthday, or 3 generations of a family can enjoy having fun together, or work groups can get to know each other better. It is an alternative entertainment experience where you can escape reality for an hour in our immersive storyline, as a special agent. It is a game where you are in a room for an hour, with only your friends and family, solving puzzles and riddles to break into a safe. Basically, Escape Scene is a place you come to put away your cell phones, put on your thinking caps and have a blast! The company has set up an event on the 29th of April, between 13:00 and 16:00 hours. The event will include unhinged tours of the escape rooms with pictures allowed, contests, prizes, and custom Snapchat filters.
Escape Scene's 1st anniversary event is suitable for kids, teenagers and adults alike, so everyone is invited to join. The event will take place on the date of 29 April, between 13:00 and 16:00. People will have the chance to see how it really is inside the rooms, and how each of the rooms differ from the other ones. More details about the event can be found on https://www.facebook.com/events/431112660642472/ .
The 1st anniversary event of Escape Scene is free to attend and includes plenty of surprises for participants, including special contests, a multitude of prizes (gifts from Anthony's Woodfire Grill, Dutch Bros, Escape Scene t-shirts and games), and the ability to check out any of the escape rooms as well as take photos in them with props and custom Snapchat filters.
Escape room games are increasingly popular around the world, having their origins in Japan. Some creative people thought of transposing virtual games with hidden objects into reality, and adding a final objective to them. There are different escape rooms available nowadays, and each differs based on design, difficulty, and end objective.
Escape Scene is the first escape room founded in Everett, Washington, which is specialized in providing themed games for private groups. Currently, Escape Scene has put up a time travelling environment split into 3 different scenes (3 rooms); Deadwood, SD (1876), Cairo (1930), and Munich (1945). Each room offers a different difficulty level, starting with 5/10 for Deadwood, SD, and ending with 8/10 for Munich. Players need to recover the fragment in each room by uncovering a series of clues and making progress in this regard. The fragments are vital to recover, as otherwise they will be found by former SIA (Spacetime Investigation Agency) employee, Alastor Havoc, which will use them to conquer humanity.
Each room is set up in a different manner and requires perspicacity and out-of-the-box thinking in order to be successfully finished. Those who finish all the rooms will be able to live the entire spacetime continuum story, while further bonding the relationship with other players (colleagues, friends, family members).
Summary: About Escape Scene
Escape Scene is the first escape room company founded in Everett, Washington, offering private and corporate people the ability to reserve games for recreation purposes. Any group of minimum 3 players can book an event, based on hour and preference. More details about the company can be seen at http://www.escapescene.com .