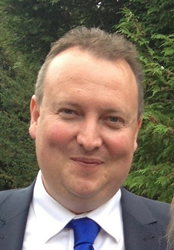 I am thrilled to be joining CSS to grow the UK customer base!
COSTA MESA, Calif. (PRWEB) April 24, 2018
Corporate Software Services, a forerunner in the world of simplifying Data Analytics, continues its hyper-growth as clients demand a centralized platform to manage the increasing complexities of business-critical services and operational data. To further our growth, we announce Dominic Butcher to the Management Team, serving as Regional Sales Manager for the UK. Dominic, a vastly experienced and accomplished Sales leader has a proven track record of achievement and success, thanks to his positive style and ability to create "can-do" environments with the team. He will boost Corporate Software Services in amplifying our message to the broader channel and make it easier for our partners to understand, implement, and sell; increasing the value we deliver on their behalf.
"This is a critical leadership role within our UK market and with Dominic's vast experience in the region, CSS are well placed to execute our growth plans. Dom's proven leadership skills will give us an incredible opportunity to deepen our customer relationships and to provide an even stronger platform for data analytics, solution innovation and service excellence." Says Noel Gie C.E.O and President.
"I am thrilled to be joining CSS to grow the UK customer base, it's a truly exciting time for the company as our teams of world class experts deliver industry leading solutions, ensuring that we provide customer excellence and our customers derive value from their data quickly and efficiently to make informed business decisions." Declares Dominic
Dominic comes to Corporate Software Services with over 20 years of technology solutions, sales leadership experience across OEM, VARs and Service Providers. Most recently, Dominic was Sales Director of Shared Services at Logicalis, the international multi-skilled solution provider, where he earned recognition as a highly respected and lauded team leader, winning the most significant new account acquisitions, and achieving high growth in revenue. Dominic arrived at Logicalis via the acquisition of TBC Ltd where Dominic was part of the executive team aligning and structuring the business ready for sale.
"The timing could not be better! We have been working diligently over the past year to build out new service offerings to meet the industry demand. Businesses are looking to make informed decisions based on data, and CSS provides the expertise to extract that data in the most efficient manner. Dominic will be able to leverage the Managed Operational Intelligence Platform (MOIP) and the Red-Team resources to deliver immediate results to our customers." Affirms Curtis Shelton; CRO.
The CSS leadership team [ link http://www.cssdelivers.com/company/executive-team/ are making major investments both in strategy and funding to drive their goals of providing a world-class service.
To learn more about Corporate Software Services, please visit http://www.cssdelivers.com