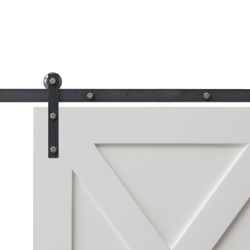 "Now the exposed, handcrafted hardware that gives large barn doors such aesthetic charm and style are available for smaller scale needs," said Daniel Wright, CEO of Artisan Hardware. "This miniature hardware will make a large design statement in both home and office décor."
SALT LAKE CITY (PRWEB) April 25, 2018
Artisan Hardware, a Utah-based premier manufacturer of barn doors and accompanying hardware, has taken the look and feel of large barn door hardware and created a smaller version of hardware made for cabinets, vanities, TV stands, window shutters and more.
"Now the exposed, handcrafted hardware that gives large barn doors such aesthetic charm and style are available for smaller scale needs," said Daniel Wright, CEO of Artisan Hardware. "This miniature hardware will make a large design statement in both home and office décor."
The customizable Cabinet Barn Door Hardware is available in 12 different finishes, six standard finishes and six color options from the Creative Collection. There are also nine accessory options, including seven handle varieties. As with all hardware from Artisan Hardware, the track length is completely customizable per the customers' needs.
All Artisan Hardware products are hand-crafted in in Kaysville, Utah. Since founding, the company has had tremendous growth with a compound annual growth rate of 142 percent. A variety of Artisan Hardware products have been featured on top-rated home and garden television programs including: Property Brothers (multiple episodes), Bath Crashers and This Old House. They have also been featured in Better Homes & Gardens, Fine Homebuilding and Handyman magazines. The company is also the exclusive provider of barn doors for Pottery Barn. For more information about Cabinet Barn Door Hardware or other Artisan Hardware products go to ArtisanHardware.com.
ABOUT ARTISAN HARDWARE:
Founded by Daniel Wright in 2012, Artisan Hardware is a premier barn door and hardware company based in Kaysville, Utah. Artisan Hardware differentiates itself by creating hand-crafted, customizable barn doors and hardware products that are made in the United States of America. For more information about products, please visit ArtisanHardware.com.