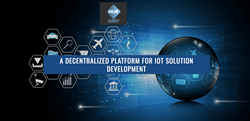 "This is just one of the first of many very exciting capabilities we will be adding in the coming months. The marketplace creates real utility for the HUR token and sets the groundwork for what we expect will be the leading one-stop solution for IoT projects"
HALIFAX, Nova Scotia (PRWEB) April 24, 2018
Hurify, a platform ecosystem for developing IoT solutions seamlessly across borders, announces the launch of its IoT Hardware Marketplace on the Hurify platform. The Hurify Marketplace has access to tens of thousands of products for every stage of an IoT project development, from proof of concept to roll out.
Hurify's HUR token is the only medium of exchange accepted on the Marketplace, giving HUR token holders the ability to order from anywhere in the world and take advantage of Arrow's global fulfillment commitment. Hurify's HUR token is based on the Ethereum ERC20 token standard.
Additionally, the Hurify platform token incentive system will soon be adding opportunities to earn tokens as rewards to community members that contribute to the value of the ecosystem by providing product reviews of verified purchases, self-produced "how to" educational content and other social goods. Developers looking to add to their bench tools can earn HUR tokens through community participation with immediate availability to spend in the Marketplace.
According to Chandramouli Srinivasan, founder and CEO of Hurify, "This is just one of the first of many very exciting capabilities we will be adding in the coming months. The marketplace creates real utility for the HUR token and sets the groundwork for what we expect will be the leading one-stop solution for IoT projects".
About Hurify : Hurify is building a platform ecosystem for project owners and developers to connect and collaborate on IoT projects seamlessly across borders. Hurify enables this collaboration by means of a smart contract system supporting all aspects of IoT solution development. Hurify is also collaborating with other innovative partners to create other advanced capabilities to make IOT Solution development on Hurify platform easy.