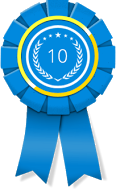 LOS ANGELES (PRWEB) April 25, 2018
In its latest round of monthly awards, 10 Best Design has named SPINDX Digital as the Best Los Angeles Web design company for April 2018.
On a monthly basis, 10 Best Design comes up with lists of companies that are doing very well in the field of web design. For the month of April 2018, they have named 10 contenders for several different titles, including the title of Best Web Design Firm in Los Angeles. These 10 companies are the ones who have achieved more than any other to be considered worthy of this title. Following are the top three companies from the list of 10.
The first company on the list and top contender for the title of Best Los Angeles Web Development Agencies is SPINX Digital, which is headquartered in Los Angeles, California. This company is all about big ideas that it uses to help its clients as well as innovative technology that is applied very well by the creative stuff at the agency. They are involved in all sorts of projects, which includes not only website design and development, but also mobile applications, advertising, social media marketing, digital strategy, and email marketing initiatives.
The second company on this month's roster is EIGHT25MEDIA, a top web design firm that is headquartered in San Francisco and operates in multiple markets. This company is known to have built over 500 websites that have experienced stellar results. They provide a variety of services in web design and development, including creative web design, responsive websites, excellent content management systems, and e-commerce. In addition to this, they will help clients with web application development, mobile app development, and other strategies throughout the world of digital marketing that can be very beneficial to their clients.
Number 3 on the list as a leading web design firm is Blue Fountain Media, which is headquartered in New York, New York but also has an office in Los Angeles. They are known for their abilities and website design, as well as other aspects of digital marketing, including the strategy that goes into growing the brands of their clients. They help with mobile apps, as well as other facets of digital marketing that are very important. They work with all industries, including e-commerce, education, nonprofit, Enterprise, and startups. They employ a three-step approach when it comes to growing the brands of their clients. This begins with driving qualified traffic, continues with converting visitors into leads and customers, and finishes with generating brand loyalty and bringing in repeat business.
For more information about the award winners for April, visit http://www.10bestdesign.com.