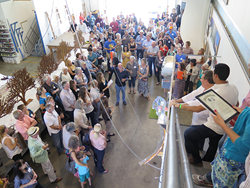 NAPA, Calif. (PRWEB) April 24, 2018
With over 250 people in attendance, artist Gordon Huether celebrated 30 years of art practice and the release of a new catalog of his work at an invitation-only reception held at his Napa studio on Saturday, April 21. Among the special guests joining the celebration were California State Senator Bill Dodd (District 03), who presented Huether with a Certificate of Recognition from the California Legislator for community service, volunteerism and advocacy for public art. Both Senator Dodd and Assembly Member Cecilia Aguiar-Curry (District 04) signed the Certificate.
Jill Techel, the Mayor of the City of Napa, and Council Member Peter Mott, along with Napa County Supervisors Brad Wagenknecht and Alfredo Pedroza, presented Huether with a proclamation from both the City and County of Napa recognizing him for his 14 years of service as a City of Napa Planning Commissioner, contributions to public art and his significant leadership in the creation of the City of Napa's 9/11 Memorial. In addition, the Joint Proclamation designated Saturday, April 28, 2018 as Gordon Huether Day in both the City and County of Napa.
Huether has created large-scale, site-specific artwork for sites across the United States and internationally. His work ranges from integrated architectural installations to freestanding sculptures to immersive artwork for landscape settings. In total, Huether has completed more than 250 art commissions over the course of his career. In addition to his public works, Huether creates fine artwork and accepts private commissions.
Recently awarded commissions include installations for the Allen Reeves Football Complex at Clemson University, Redondo Beach Performing Arts Center, San Jose Police Department, Fresno's Mariposa Plaza, BioMarin Pharmaceutical in San Rafael, Southern Utah University School of Business and the Palm Beach County Sheriff's Office Evidence and Impound Facility. For more information on these commissions and other projects, please visit our website http://www.gordonhuether.com.
For more information, please contact Christina Rosenberger at cr(at)gordonhuether(dot)com.
Gordon Huether was born in Rochester NY in 1959, to German immigrant parents. He learned art composition and appreciation at an early age from his father, a self-taught craftsman. Gordon resolved at an early age to create a lasting impact on the world through the creation of large-scale public art. Gordon Huether Studio was established in Napa, CA in 1987.
At the beginning of his career, Huether focused on glass fabrications. As he developed as a public artist, he began employing different types of materials, including stainless steel, aluminum, Corten steel, dichroic glass and composite materials, and investigating the properties of richly saturated color, natural and artificial light sources, diverse textures, and found and salvaged materials. Huether offers viewers a complex intellectual experience that tells a story rooted in viewers' understanding of the site where the work is located. The variety of media and applications that Gordon works with means that initial concept development is open to a variety of ideas emerging from the collaborative process that is integral to public art commissions. Community engagement, the project goals and the site itself drive all of Gordon's choices in materials, approach and concept.
Huether has created public art installations for universities, hospitals, recreation centers, civic buildings, libraries, museums, airports, transportation centers, parking garages, and private corporations throughout the world. In his biggest commission to date, Gordon is currently working with the Salt Lake City International Airport Department of Airports in designing, fabricating and installing significant multi-million dollar installations for its Terminal Redevelopment Program, expected to be complete in 2020.
Huether is the recipient of several awards, including recognition from Americans for the Arts, Public Art Network "Best Public Artwork in the United States" for Gotta Go, a suspended work at the Jacksonville International Airport and recognition from CODAworx, for the Napa 9/11 Memorial in Napa, CA, Highwire Travelers at the Raleigh-Durham International Airport and Mountain Range and River of Light at the John Muir Medical Center in Walnut Creek, CA.
A team of professional project administrators and managers, digital designers, highly skilled fabricators, technicians and craftspeople support Gordon's process from initial design development through final installation. Gordon Huether Studio is located in a 15,000 square foot former Hay Barn in Napa, CA.
Gordon Huether Studio | 1821 Monticello Rd. | Napa, CA 94558
http://www.gordonhuether.com | press(at)gordonhuether(dot)com