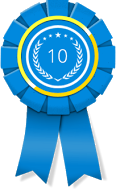 SAN FRANCISCO (PRWEB) April 26, 2018
10 Best Design has chosen the April 2018 winners of its Best San Francisco Web Design award, bestowing the coveted honor on Arhue.
Every month, 10 Best Design puts together a list of companies that qualify for the coveted title of Best Web Design Firm in San Francisco. Any client that is looking for a San Francisco based company to help with web design and development should definitely consider the companies on this list, as they are considered to be at the top of the field. For the month of April 2018, a number of companies that have been named as possible contenders for this title have been recognized, and the following are the top three companies on the list.
The first company on the list and primary contender for the title of Best San Francisco Website Design Agency is Arhue. This company is known for its abilities and not only web design and development, but also innovation and creativity. This company is all about making websites that will increase the bottom line of their clients, growing their brands, and making whatever additions need to be made in order to make business better for their clients. They are all about customer service and will strive for the visions of their clients.
Number two on the list of top San Francisco website design agencies is EIGHT25MEDIA. They have created more than 500 websites for very satisfied clients that have gotten excellent results. This award-winning web design firm has many services that they offer, including web design and development, mobile app development, web application development, and digital marketing services. The company's strategy team will work very closely with the client in order to understand the client's vision and who the target demographic is. This helps the company to create a web experience that will be innovative, unique and generate real results.
Coming in third on the list as a leading web design firm is KNI. This company is known for professionals who have a great deal of experience when it comes to digital marketing. They specifically focus on driving growth and conversion on their clients' websites. They make it so that the websites are seamlessly integrated and fully scalable so that they are as conducive to the business of their clients as possible. They truly care about customer service and will always give each client their best efforts on every project, so that the client will not be disappointed in any case.
To learn more about the award winners for April, visit http://www.10bestdesign.com.