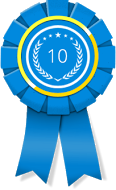 ATLANTA (PRWEB) April 30, 2018
Awards organization 10 Best Design has selected the latest winners of its monthly award for Best Atlanta Web Design Firms. For April 2018, The Creative Momentum was chosen as the premier contender in this category.
Every month, 10 Best Design puts together a list of the companies that qualify for the title of Best Web Design Firm in Atlanta. Any client that is looking for an excellent company to help with web design in Atlanta should consider the companies that are on this list, as they have a great deal to offer. For the month of April 2018, the latest list has been released with the names of 10 companies, three of which are described below.
The number one company on this list, and the company that can currently be considered the Atlanta's best web design agency is The Creative Momentum. This company lives up to its name with its extremely creative web design and other digital marketing initiatives that are both innovative and effective. The Creative Momentum works not only on web design, but also mobile design, UI/UX, explainer videos, and all sorts of other creative strategies that will end up being monumental for the success of their clients.
Southern Web Group ranks number two on the list of top Atlanta web development agencies. It is very well known for not only developing very appealing websites, but also helping clients with digital marketing tactics that ultimately end up increasing revenue. They have been in business since 2005 and have worked with all sorts of organizations and businesses that want to create a strong online presence but need some guidance when it comes to actually doing so. Essentially, this company is a production house, as it is home to a team that works very well with creative collaboration and checking every item off of each list for each project. They truly love what they do, and they believe that it shows in all the work that they do for each client.
Coming in third on the list is AWDS, or Atlanta Web Design Shop. As a top web design firm, Atlanta Web Design Shop offers a variety of services to assist clients, including custom website design and redesign, search engine optimization, and content management. They are known for truly unique and stellar designs, which are created by their skilled team of illustrators, designers, multimedia specialists, and marketers. They take a great deal of pride in their projects and the outcomes of everything they do, as well as the excellent customer service that they provide to their clients.
To learn more about the award winners for April, visit http://www.10bestdesign.com.