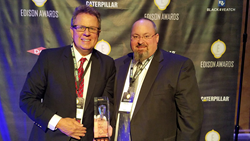 "Being recognized with an Edison Award is one of the highest accolades we can receive in the name of innovation."
ONEONTA, N.Y. (PRWEB) April 24, 2018
Ioxus, designers and manufacturers of smart power solutions based on its widely used ultracapacitor technology, today announced that it was named a Bronze winner in the Engine Enhancement category of the 2018 Edison Awards. The announcement was made at the Edison Awards Gala in New York City.
"We are very proud to have received an internationally recognized Edison Award and to be named a winner alongside companies like Mazda Motor Corporation and CFM International, a joint company of GE and Safran Group, for our engine enhancement achievements," said Mark McGough, CEO and president of Ioxus, Inc. "This award is recognition that uSTART is proving highly reliable and valuable for fleets in the trucking industry. Being recognized with an Edison Award is one of the highest accolades we can receive in the name of innovation."
Inspired by Thomas Edison's persistence and inventiveness, the Edison Awards are judged by a panel of more than 3,000 leading business executives, including past award winners, academics and leaders in the fields of product development, design and engineering. The judges recognize products as true innovations in their category.
In addition to the Awards Gala, the annual Edison Awards program encompassed a full-day, "Meet the Innovators Forum" and the, "Innovators' Showcase," which offered guests a hands-on experience with many of the winning products.
The uSTART energy storage smart power solution improves starting reliability and extends battery and starter life, and has jump start capabilities, which eliminates costly and time-consuming roadside service calls for engine starting issues. Installed by an OEM or as a retrofit as a drop-in Group 31 battery replacement, uSTART systems are widely used in Class 6 package and other delivery trucks and are now available for Classes 7 and 8 day cab trucks and tractors with up to 12-liter engines.
About the Edison Awards™
The Edison Awards is a program conducted by Edison Universe, a non-profit, 501(c)(3) organization dedicated to fostering future innovators. The Awards have been recognizing and honoring the best in innovations and innovators since 1987. They honor game-changing innovations that are at the forefront of new product and service development, marketing and human-centered design, and are one of the highest accolades a company can receive in the name of successful innovation. For more information about the Edison Awards complete program and a list of past winners, visit http://www.edisonawards.com.
About Ioxus
Incorporated in 2010, Ioxus is the smart power company that designs and manufactures intelligent power and energy storage technology for transportation, alternative energy, medical, industrial and grid -connected markets. Designed and manufactured in the U.S., the company's uSTART and X-Series products are based on patented ultracapacitor technology. Ioxus is headquartered in Oneonta, NY, with sales, service and quick-delivery inventory. For more information, visit http://www.ioxus.com.
Media Contact:
Susan Fall
LaunchIt Public Relations
858-490-1050
susan(at)launchitpr(dot)com