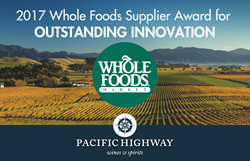 "This is an incredible honor for Pacific Highway and we look forward to continuing to innovate from today and beyond." Mark Giordano - President, Pacific Highway Wines & Spirits
GREENSBORO, N.C. (PRWEB) April 24, 2018
Pacific Highway Wines & Spirits received the Whole Foods Market 2017 Supplier Award for 'Outstanding Innovation'. The 6th annual Supplier Awards are Whole Foods Market's highest honor for producer partners who embody its mission and values, namely outstanding innovation, responsible sourcing and commitment to quality standards.
The Whole Foods Market Supplier Awards were unveiled on April 18, 2018 at a dinner at Stephen F. Austin Hotel in Austin, TX.
Pacific Highway Wines & Spirits was highlighted by Whole Foods Market for "sourcing award-winning wines and innovative, trending products from Spain, Chile, New Zealand, France and around the globe. Most recently, Pacific Highway Wines & Spirits supported the Whole Foods Market launch of Pure Provence rosé wine cans, which have been a hit with customers and represent a growing trend in beverages."
Mark Giordano, President of Pacific Highway Wines & Spirits, was present to accept the award and stated, "I walked in tonight with a feeling of gratitude, and after hearing these amazing stories the feeling has shifted to complete humility. We are humbled to be honored for this award and want to thank Cathy, Doug, Devon, Shahe, Katie, Joe and Mary for considering us. The people in this room are working to change the world through their service and through Whole Foods. This is an incredible honor for Pacific Highway and we look forward to continuing to innovate from today and beyond."
Pacific Highway Wines & Spirits is one of 27 perishable and non-perishable suppliers to be recognized by Whole Foods Market this year.
Pacific Highway Wines & Spirits is a specialized import, sales, and marketing agency headquartered in Greensboro, NC and owned by Australia's Oatley family and New Zealand's Giesen family. The portfolio is based on family-owned brands from coveted wine regions across the globe. Brands include Giesen, Robert Oatley, Mirabeau, Garzon, Vistalba, Tomero, Argento, Boschendal, Beachhouse, Renwood, Foppiano, 60 Souls, Autoritas, Calixo, El Terrano and more. http://www.Pacific-Hwy.com