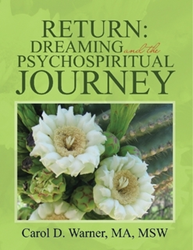 TUCSON, Ariz. (PRWEB) April 24, 2018
"Return: Dreaming and the Psychospiritual Journey" (published by Lulu), a memoir from author Carol D. Warner, MA, MSW, shares stories from Warner's experience as a psychotherapist helping people heal from psychological suffering, including different kinds of abuse.
Using examples meant to be engaging, this book focuses on the power of dreams to guide and heal, no matter what the circumstances. It gives an inside view into what people in therapy experience in different stages of their healing as well as in everyday life. Warner's long-term work with ethics and dreams gives perspective on how to ethically work with dreams without leading. Because of the amount of information on dreams, trauma and memory, Warner believes this book is ideal as a text for psychology students – and also for anyone interested in dreams.
An in-depth section looks at the vast underground world of Manchurian candidates and history of mind control in the United States. Warner's father was CIA general counsel during the 1970's senate intelligence hearings when the CIA was sued for illegal mind control. Years later, Warner recounts working with a presidential-level Manchurian candidate when her life was plunged into a world of gangstalking, home and office intrusions, constant surveillance and multiple murder attempts – all to keep her from revealing what she writes in Section V. Warner wrote this book, on the advice of counsel, to get the information out so as to ensure her safety. She believes everyone should know about, "the dark forces of control behind the scenes and how the surveillance state invades every aspect of our lives for non-benign reasons."
Warner hopes that readers of her book will see "the power of dreams and the Divine; plus an awakening into the active forces trying to suppress our freedoms, our faith and our free will." The book ends on a positive note, with Warner sharing a dream healing experience.
"Return: Dreaming and the Psychospiritual Journey"
By Carol D. Warner, MA, MSW
Softcover | 8.5 x 11 in | 310 pages | ISBN 9781483460499
E-Book | 310 pages | ISBN 9781483460505
Available at Amazon and Barnes & Noble
About the Author
Carol D. Warner, MA, MSW, has a Master of Arts in religious studies from the University of Virginia and a Master of Social Work from Smith College School for Social Work. She has spent a lifetime studying and working with dreams and spirituality and has been involved with the International Association for the Study of Dreams for over 30 years. Warner has a passion for helping her clients on their psychospiritual healing journey. Warner has also written "At the Feet of the Master" and had a piece featured in the International Association for the Study of Dreams, IASD, book "Dreams that Change Our Lives."
Lulu empowers people of all ages to explore and express their interests, passions and expertise through books, photography and art. Since introducing self-publishing in 2002, Lulu has empowered creators in more than 225 countries and territories to produce nearly two million publications. Lulu Jr. allows children to become published authors, encouraging creativity, strengthening literacy and building self-esteem. Picture.com offers professional photography of collegiate and professional sports, memorable and historic events, fine art and home décor. For more information, please visit http://www.lulu.com.