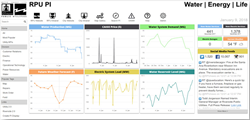 "For the City of Riverside, this is a big win, but it is only the beginning of the journey to advanced analytics and actionable intelligence. I can't wait to see what we do in the coming years to become an even smarter city," said CJ Smith, the City of Riverside, Project Manager.
SAN FRANCISCO (PRWEB) April 24, 2018
OSIsoft, a global leader in operational intelligence, announced the inaugural winners of the PI World Awards during the keynotes of its PI World conference. The awards recognize organizations who are using data technology to drive operational excellence. Awards were given in four categories:

Digital Innovation for innovative uses of digital technology and information to improve efficiencies and situational awareness
Digital Sustainability for outstanding achievements using digital technology and information for sustainability improvements in energy utilization, carbon emissions, water usage, and/or waste.
Digital Impact for outstanding measurable achievements using digital technology and information to improve process efficiency, asset health, energy utilization, safety, or quality.
Digital Community for companies and organizations successfully connecting their communities through data and technology to deliver new operational efficiencies
"Our conference has always been about bringing our customers together to share and learn how they are using digital technologies to transform their operations. The PI World Awards exist to recognize the most exciting real world applications of technology happening in industry," said Jenny Linton, President of OSIsoft.
DIGITAL INNOVATION – City of Riverside
California's fourth fastest growing city, Riverside, received the PI World Award for Digital Innovation. Riverside has used data to transform Riverside Public Utilities (RPU), a consumer-owned water and electric utility serving 120,000 customers, into a digital and connected public utility. Riverside implemented The PI System as a data infrastructure at the end of 2016 to integrate disparate systems into real-time dashboards, including map-based visualizations that showed where issues were in real-time and which crews could best respond.
Prior to the implementation, Riverside was making reactive decisions based on day-after reports in Excel spreadsheets. With real-time information, they have been able to shift to proactive maintenance, predict asset failures, respond faster to outages, monitor water quality, and more. From process automation alone, they estimate savings of $3 million over the next five years.
"For the City of Riverside, this is a big win, but it is only the beginning of the journey to advanced analytics and actionable intelligence. I can't wait to see what we do in the coming years to become an even smarter city," said CJ Smith, the City of Riverside project manager for the PI System implementation.
DIGITAL IMPACT – Aera Energy
Aera received The PI World Award for Digital Impact for its enterprise deployment of data technology to improve surface and sub-surface oil field surveillance of 7,500 wells and 5,000 injection completions. Aera is a California-based oil and gas company that produces approximately 25% of California's oil and gas. Its Belridge Complex is 22 miles long, 2.5 miles wide, and produces 80,000 barrels of oil equivalent a day. With a data infrastructure, Aera has reduced manual surveillance of wells and pipeline infrastructure for a total of $14 million in savings.
DIGITAL COMMUNITY – Sempra Renewables, Nokia, and SenseOps
Sempra Renewables worked with Nokia, SenseOps, and others to pilot a new solution for remote monitoring of wind turbines to predict pitch assembly failure. Wind turbine pitch assemblies have high failure rates and can be one of the largest contributors to equipment downtime.
At the Broken Bow II windfarm in Nebraska, Sempra installed an IoT gateway into the nosecone of some turbines to monitor the performance of the pitch assembly, which angles the blades into the wind to maximize output. Data from the gateway is transmitted by a private LTE network from Nokia and integrated into OSIsoft's PI System. With that data, Sempra can remotely monitor and proactively maintain their turbines, avoiding failures that can cost over $165,000.
"It's an honor to be recognized along with our technology partners for our innovative approach to monitoring and wind turbine performance," said Timothy Allen, Senior Director, Construction and Operations for Sempra Renewables. "Deploying new wireless technology inside the turbine has the potential to reduce cost and save time on our operations and maintenance activities."
The combination of smart edge devices, Nokia Digital Automation Cloud, and the PI System has the potential to spread to other industries, such as mining and oil and gas, where expensive mission critical assets operate in remote locations with previously limited connectivity.
DIGITAL SUSTAINABILITY – National Institute of Health (NIH)
The PI World Award for Digital Sustainability went to NIH for their use of digital technology to manage the Central Utility Plant (CUP), which is one of the largest CUP under one roof in the U.S, housing five dual fuel boilers, 12 5,000-ton chillers, and a 23 MW co-generation plant. NIH collects over 34 million data points per day from industrial control systems and has implemented a large-scale calibration program. Over one million advanced calculations are conducted each day from approximately 5,000 continuously running analyses. NIH has also developed an enterprise website and provides advanced analytic tools to optimize plant operation.
As a result, NIH's cogeneration plant is one of the cleanest in the world. It has reduced carbon dioxide emissions by about 60,000 tons per year, the equivalent of emissions from 11,000 cars. With more insight and actionable intelligence, they have also increased equipment reliability and saved 10-17% per year in energy and water costs, despite increasing utility costs and building area.
ABOUT PI WORLD
PI World brings together more than 2500 attendees from power utilities, oil and gas, mining, and other traditional industries for 70+ talks in nine industry-specific tracks. Additionally, the PI World Expo features more than 70 booths showcasing applications and solutions from technology leaders, such as PTC and National Instruments, to advanced analytics start-ups, such as Element Analytics and Seeq. For more information on PI World, visit piworld.osisoft.com/US2018.
The next PI World Awards will be given at OSIsoft's PI World conference in Europe this September.
ABOUT OSISOFT, LLC
OSIsoft is dedicated to helping people transform their world through data. OSIsoft makes the PI System, one of the world's most widely-used technologies for IIoT. The PI System captures data from sensors, manufacturing equipment and other devices and transforms it into rich, real-time insights that engineers, executives and partners can use to reduce costs, dramatically improve overall productivity or create new services.
Some of the world's largest organizations, including more than 1,000 leading utilities, 95 percent of the largest oil and gas companies and more than 65 percent of the Fortune 500 industrial companies, rely on the PI System to manage their businesses. For more, please visit http://www.osisoft.com.