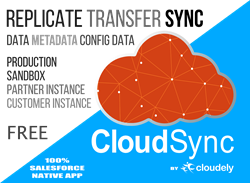 The out of the box installation comes with pre-defined templates that will migrate data for Apttus (CPQ and CLM), Salesforce (Standard Objects) and Salesforce CPQ.
SAN JOSE, Calif. (PRWEB) April 24, 2018
Cloudely today announces that it is releasing a upgraded version of CloudSync that includes much needed features to make one-click data and metadata migration between Salesforce instances and org easier than ever before.
CloudSync was first introduced on Salesforce AppExchange Platform during Q3 2016 as a native Salesforce AppExchange application for data migration and since then they have introduced many new features based on feedback received from several Salesforce Developers/Admins, Implementation Partners and Customers. The latest upgrade improves the usability, reliability and scalability of the migration of complex referenced data and metadata between Salesforce instances.
With the new version, CloudSync is branching out into two products - CloudSync*M for data migration needs and CloudSync*R for Salesforce Release Management. CloudSync*R will help Customers in change management alerting them on impact of new releases for Salesforce and other AppExchange Applications. Currently CloudSync*R is in beta.
The current version of CloudSync*M also comes with reusable pre-configured templates that helps Salesforce Administrators and Developers perform one-click data migration for Salesforce Standard Objects, Salesforce CPQ Price Rules, Salesforce CPQ Approval Rules, Salesforce CPQ Quote Templates, Salesforce CPQ Product Rules, Apttus CLM Agreement Rules, Apttus Query Templates, Apttus CPQ Price Rules and others. The product team is continuously working on building new templates for different use cases.
"Our product has been used in scenarios that we never imagined for e.g. one of our Customer went through M&A and they used CloudSync to consolidate environments. Now, that's creative." says Raj Beri, VP of Customer Success.
Suren Reddy, VP Partnership adds "CloudSync has enabled Salesforce Administrators and Implementation Partners to reduce project implementation cycle and make efficient use of resources - ultimately saving costs".
CloudSync is a companion app for all the AppExchange applications of the SFDC ecosystem in the perspective of health checks & release management advisory service. It keeps all the ISV vendors and Customers to be preventive in the prevention mode over reactive behavior of business downtime.
You can download CloudSync from Salesforce AppExchange and start using the full version for free.
For more information please visit http://cloudsyncapp.com/cloudsync-m or email cloudsync(at)cloudely(dot)com.
About Cloudely
Cloudely is the leading independent provider exclusively focused on Quote to Cash solutions such as Configure Price Quote (CPQ), Renewals, Contract Management and Billing/Subscriptions. With a unique blend of expertise in quote to cash business processes and technologies, Cloudely is redefining enterprise services with innovative, award winning programs and methodologies helping customers transform their businesses. From assessing strategic business & technology needs to implementation, customization, training and support & maintenance, Cloudely has successfully completed several projects for global enterprises in various industries. To learn more, visit http://www.cloudely.com
Various trademarks listed in this press release is held by their respective owners.