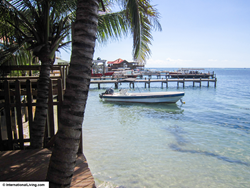 I came here for the main reasons others do: economical living, the spring-like climate, and the city's cultural and art scene
BALTIMORE (PRWEB) April 24, 2018
"Florida has long been the go-to option for American retirees seeking a warmer climate and lower taxes, but its appeal appears to be diminishing—with Florida-based retirees turning their eyes to better-value options abroad," says Jennifer Stevens, Executive Editor, International Living.
"The destructiveness of hurricanes in Florida—which typically increases insurance rates and reminds retirees of the risks—has likely contributed to this trend. In addition, retirees are becoming more aware of the lower cost of living in certain havens abroad, where they can save as much as 50% on their costs in Florida. That, when paired with good weather and the draw of an adventure, is increasing the appeal of locales south of the border."
Mike and Fran Smith, for example, wanted to escape the tropical storms that plagued their home in Florida. They researched several countries and when Mike, an engineer, received his retirement package from Chevron, they decided to make Panama their permanent residence.
They lived in several places in Panama before settling down at their beach home in Barqueta Nice, a community on the black-sand beaches of the Pacific coast, a short drive from the city of David.
"We enjoy going for a drive on the beach one day, then driving into the mountains the next," says Mike. As well as Panama's varied landscape and comfortable atmosphere for retirees, the Smiths appreciate the country's investments in infrastructure and health facilities that continue to improve their living conditions.
Panama uses the U.S. dollar as its currency—one of the big deciding factors for the Smiths in moving to Panama 13 years ago. Here, they don't have to think about exchange rates.
Thanks to their retiree status, the Smiths do not pay any property taxes—helping stretch their pension and retirement funds a lot further. Panama's Pensionado program also offers retirees a whole host of discounts on everyday costs of living, making this already low-cost country even more affordable.
With monthly expenses of around $1,800, paid mainly from their pension, the Smiths believe that they made the right choice in Panama. "Everything is reasonable here," Mike said. "You can afford to stay within a budget."
When Ann Winters and her husband Ron, moved to the Caribbean island of Roatán in 2014 from the Florida Keys, they found a new lease on life.
"The one word that always comes to mind when asked how I like living here is 'contentment,'" says Ann. "I have never felt so content anywhere."
"I love that there is no sense of urgency about the little things, and once you can adapt to that mañana attitude, it's very freeing, because there really is always tomorrow. Life here has taught me patience and given me a clear sense of humanity."
Roatán is the largest of the Bay Islands, lying about 40 miles off the Honduran coast. The island is most famous as a diving destination and retirement hotspot. With temperatures in the low- to mid-80s F for much of the year, the weather is just perfect for the Winters.
"I immediately loved the sounds and smells of Roatán," says Ann of what drew her to the island. "The sound of the ocean soothes me. I have friends from Italy, Canada, South Africa, Australia, and Austria, as well as many from the U.S. Going snorkeling on the reef off West Bay Beach and going to an isolated beach in the far east end of the island are special days."
The couple are settled into a three-bedroom house set amid lush vegetation, overlooking the crystal-clear Caribbean Sea. Property taxes are very low—they pay $350 a year. Healthcare is affordable—a doctor's visit costs around $25. A couple can live well on Roatán for $2,000 to $2,500 a month, including all expenses.
Many retirees find their passions reignited in their new, adopted homes. Like Susan McBride from Miami, who now lives in Cuenca, Ecuador.
"I've lived here almost six years," says Susan. "I came here for the main reasons others do: economical living, the spring-like climate, and the city's cultural and art scene."
Cuenca is a city of 600,000 nestled in the Andes mountains. It's a Spanish colonial city protected by UNESCO as a World Heritage Site thanks to its beautiful central district dating from the 1500s. A couple can live comfortably here on a monthly budget of $1,700.
Cuenca's many ornate churches called to Susan's Catholic roots. "I had traveled around a lot. I had lived in Guatemala, Quito [Ecuador], and Costa Rica. I knew what I was getting into. Cuenca is home. I love the people here. Their kindness and acceptance of us."
When Susan started volunteering, she found that Cuenca fit her altruistic needs, as well. Last May she began work with a domestic abuse shelter in the city. "It was getting close to Mother's Day, and the program director told me the children wanted to be like other kids and give their mothers gifts," she says.
So, Susan and a group of other expats gathered presents to put in Mother's Day gift bags before working with the children to make personalized Mother's Day cards and hand-made bracelets to go in the gift bags.
Susan and Leanna Price, a long-time volunteer who helped put together the event, were invited to the ceremony in which the children presented the cards to their mothers.
"One of the best moments for me was that the shelter had also made Mother's Day cards for Leanna and me. At one point, I looked up and there was Leanna with a little boy. She had wrapped her arm around his shoulder and was holding him. It was just one of those simple moments where you can see the meaning of what you're doing and how important it is," says Susan.
Learn more the best countries to retire to, here: The World's Best Places to Retire in 2018
Editor's Note: Members of the media have permission to republish the article linked above once credit is given to Internationalliving.com
Further information, as well as interviews with expert authors for radio, TV or print, is available on request. Photos are also available.
For information about InternationalLiving.com content republishing, source material or to book an interview with one of our experts, contact PR Managing Editor, Marita Kelly, +001 667 312 3532, mkelly(at)internationalliving(dot)com
Twitter: @inliving
Facebook: https://www.facebook.com/International.Living/
About International Living
Since 1979, InternationalLiving.com has been the leading authority for anyone looking for global retirement or relocation opportunities. Through its monthly magazine and related e-letters, extensive website, podcasts, online bookstore, and events held around the world, InternationalLiving.com provides information and services to help its readers live better, travel farther, have more fun, save more money, and find better business opportunities when they expand their world beyond their own shores. InternationalLiving.com has more than 200 correspondents traveling the globe, investigating the best opportunities for travel, retirement, real estate, and investment.