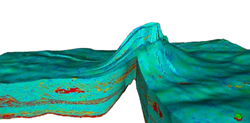 We are honored and delighted to be chosen by Eni as their partner for advanced reservoir simulation. It's a tremendous endorsement of the value we believe we've created in ECHELON
(PRWEB) May 04, 2018
Italian energy company Eni and U.S. based Stone Ridge Technology announced today that they have entered into a cooperative agreement designed to advance and accelerate the development of ECHELON®, SRT's pioneering high-performance reservoir simulator. The agreement initially covers a three-and-a-half year period during which SRT and Eni will work together to enhance and promote next-generation simulation technology and workflows that are enabled by ECHELON's exceptional performance.
Reservoir simulation codes, like ECHELON, model the subsurface flow of hydrocarbons and water in a petroleum reservoir. They allow energy companies to optimize recovery from their assets by simulating numerous 'what-if' scenarios for well placement and development strategies. ECHELON is the fastest, most scalable simulator in the world and is built to run entirely on NVIDIA® Tesla® GPUs and CUDA® software, the same high-performance computing platform now powering the revolution in artificial intelligence, machine learning and big data.
According to Vincent Natoli, President of Stone Ridge, "We are honored and delighted to be chosen by Eni as their partner for advanced reservoir simulation. It's a tremendous endorsement of the value we believe we've created in ECHELON. Eni and SRT are strongly aligned in our mutual vision for reservoir modeling and Eni's financial and intellectual contributions will be instrumental in advancing the technology and accelerating its maturity and deployment."
Recently, Eni announced the successful completion of a breakthrough calculation using ECHELON and its industry-leading HPC4 cluster. A high-resolution model of a deep-water reservoir, with 5.7 million active cells, was used to generate 100,000 realizations with different petro-physical properties. All 100,000 models completed in 15 hours running on HPC4's 3,200 NVIDIA Tesla GPUs. Each individual model simulated 15 years of production in an average of 28 minutes. By comparison, most reservoir engineers in the industry can run just one single simulation in a few hours with legacy CPU-based hardware and software.
Speaking for the entire development team, Ken Esler, Stone Ridge CTO, added, "The state-of-the art in computation has shifted dramatically in the last few years with the emergence of GPUs as an HPC platform. As this calculation shows, ECHELON can deliver performance that opens up completely new workflows in reservoir simulation. The breadth and depth of experience in reservoir engineering that Eni brings to this collaboration will accelerate our efforts to establish modeling capabilities and workflows previously thought impossible."
About Stone Ridge Technology:
Stone Ridge Technology develops and markets ECHELON, the world's fastest commercial reservoir simulator built and optimized from inception for GPUs and massive fine-grained parallelism. A U.S. company based in Maryland, SRT has deep expertise in computational science, parallel programming and high-performance computing. For more information, visit http://www.stoneridgetechnology.com.
About ENI:
Eni is an Italian energy company, considered one of the global supermajors, with operations in 73 countries and a market capitalization of US$55 billion, as of June 30, 2017. Eni consistently ranks among the top 100 on Fortune Global 500 list for largest companies by revenue. In 2016, the company was listed in 65th place. For more information go to http://www.eni.com.