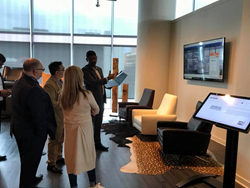 "The interest in technology to assist the buyer & seller during HPMKT was undeniable!"
RICHARDSON, Texas (PRWEB) April 26, 2018
Whether it is for the manufacturer, retailer, designer or the consumer, technology can play a major role across the entire buying process. During the HPMKT in High Point, North Carolina, Impiger Technologies showcased technology that can help at all stages of the buying and selling process. Impiger showed solutions using Augmented Reality, Bluetooth Beacons, Artificial Intelligence driven Chatbots, Mobile Catalogs, Interactive Kiosks all with the sales person, designer and consumer in mind.
"The interest in technology to assist the buyer and the seller during the High Point Market was undeniable. Today's consumer is very demanding and everything we can do to help provide a better buying experience is our priority. This includes making sure the sales and service people have everything they need to service a customer quickly and accurately," said Jude Ramayya, CEO of Impiger Technologies.
Solutions showcased at the HPMKT Spring 2018:
TABLET-BASED INTEGRATED PRODUCT CATALOG, ORDER TRACKING and AI CHATBOT for RETAILERS
The iPad-based product catalog included details of each product, including dimensions, options, full specifications and visual representations that allowed you to change fabric and colors. It also included real-time updates to order status providing a graphic representation of exactly where an order was in the production and shipping process. In addition to the catalog, the integrated a AI driven Chatbot that can provide quick answers to sales people about the products, orders, etc. without having to call or email a product specialist, all from hand held tablet.
INTERACTIVE TOUCH KIOSK
A very popular piece of technology on display was a touch interactive Kiosk that was used as a sales assistant and a stand-alone tool for consumers. The Kiosk provides a great visual shopping experience on the showroom floor with a large, touch interactive screen, giving the user the opportunity to easily view all the products in detail, move products around, add multiple products side by side, help the consumer visualize the products with multiple options(coloring, fabric, configurations, etc.), all changeable with the swipe of a finger.
BEACON BASED NOTIFICATIONS
As people walked through the showroom floor they would receive a push notification as they walked into certain rooms that automatically played a video about the product being showcased in that room. Bluetooth based beacons can be strategically placed to highlight specific products, push offers, and add to the customer's shopping experience, as they walk by those products.
AUGMENTED REALITY 3D ROOM PLANNER
The AR assisted 3D room planner was another highlight at the HPMKT. The capability for people to get three-dimensional views of one or more pieces of furniture in their home prior to making a purchase, really takes enhancing the customer experience to another level. Today's consumer wants to visualize as much as possible and AR enables them to get a good idea of how a new piece of furniture would look in their home, to scale and in the color and fabric of choice. This was clearly a highly sought-after experience especially with designers.
About Impiger Technologies:
Impiger Technologies is a leading Digital Transformation Solution Provider that enables Businesses to Automate, Engage and Manage their business through the implementation of Mobile, Cloud, Web, IoT, AR, RPA and AI Technologies. In the last 13 years, Impiger has implemented more than 500 Digital Solutions and served more than 200 businesses improve business efficiency, enhance productivity, and grow revenue. To learn more about Impiger Technologies, visit the website at impigertech.com or visit Impiger's Twitter page @impigertech.