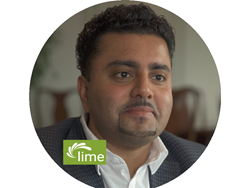 "Lime Connect is a place where relationships grow. They are the forefront and a priority, and I encourage anyone who is not part of The Lime Network to give it a shot - it will definitely take you to the next level." - Niroshan Subramaniam, IBM Canada and Lime Canada Ambassador
TORONTO, Ontario (PRWEB) April 24, 2018
Lime Connect, its NextGen Junior Board and Ambassadors - and its Canada corporate partners will host a Fireside Chat and reception on Thursday, May 10, 2018 in downtown Toronto that is designed for current university students and professionals - including veterans - who happen to have any type of disability. IBM Canada sales executive and longtime Lime Ambassador Niroshan Subramaniam will share how he successfully navigates having a career and living a full life with a disability - and tips for success - in his Fireside Chat titled, "No Limits: Driving Success at Work and in Life."
The engaging conversation will be followed by an intimate networking reception with Lime Network members and Canada corporate partners Bell, BMO, CIBC, CSIS, IBM Canada, Rogers and TD, who are always seeking to connect for current and future roles. This is a great opportunity to build relationships, and also learn about new opportunities if you happen to be seeking career advancement.
The RSVP/application deadline is Thursday, April 26th at 11:59pm PST. Read more and apply via this link.
One in five people globally, and one in ten students on campus today, has a disability - and roughly 30% of white collar employees in the workplace have disabilities. The large majority of disabilities are non-visible – 90% of those on campus and 70% in the general population - including those who are dyslexic or have ADD, depression, medical conditions and many others. University students and professionals with all disabilities are encouraged to take advantage of this opportunity.
Date: Thursday, May 10, 2018
Time: 6:00 – 8:00 pm (registration begins at 5:30)
Format: Fireside Chat followed by reception
Dress: Business
Location: Downtown Toronto
Opportunities: Attendees are encouraged to view all open roles with corporate partners in The Lime Network upon RSVP/application
Space is limited because of the event format, and all candidates RSVP/apply to attend via The Lime Network. Learn more, and apply, via this link.
Deadline to apply: Midnight PST on Thursday, April 26, 2018
Lime Connect welcomes university students and experienced professionals with any disabilities as members of The Lime Network to learn of all candidate opportunities, including scholarships, internship and full time careers with our corporate partners, recruitment receptions, partner and Lime Network social events, professional development webinars and workshops and more. We welcome all interested parties as Friends of The Lime Network.
About Lime Connect
Lime Connect is a global not for profit that is rebranding disability through achievement by attracting, preparing and connecting highly accomplished individuals with disabilities for careers with the world's leading corporations. Our goal is to break stereotypes and lead all companies to realize the importance, and value, of employing people with disabilities at every level of education, talent and ability.