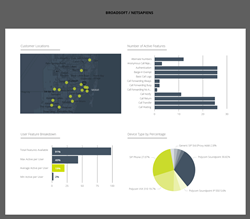 SmartProfile is a vital tool for helping service providers define sales and marketing strategies that respond to distinct customer characteristics.
Denver, CO (PRWEB) April 26, 2018
Cloud Optik, a cloud insights platform for service providers, today announced their latest integration focusing on Broadsoft BROADWORKS and Netsapiens SNAPsolutions platforms. The company's SmartProfile tool analyzes provider's existing data for better understanding of current customers, service analytics, and opportunities to provide deeper services to the existing customer base.
"After 12 years of owning and operating a successful service provider, we noticed some key gaps in the industry when it comes to using data and targeting customers, so we set out to address them," said Michael Sterl, CEO of Cloud Optik. "Using big data and business intelligence, we developed a platform that helps providers and channel partners dive deeper into their customer base and better target opportunities to better engage with existing customers."
SmartProfile allows providers like Broadsoft and Netsapiens to track which features are being sold to customers, which ones they are using and historical customer trends. In doing so, the platform enhances customer loyalty by leveraging insights and giving providers the insights they need to provide more targeted feature training. Additionally, Cloud Optik uses license optimization to create tailored features bundles while focusing on customer education and data utilization to enable upsell/cross-sell opportunities.
"SmartProfile is a vital tool for helping service providers define sales and marketing strategies that respond to distinct customer characteristics," said Catharine Trebnick, Senior Research Analyst at Dougherty & Company LLC. "By identifying customer location and device type and determining active features customers use, Cloud Optik cuts through the data to present a more comprehensive and multi-layered understanding of customers."
Businesses are actively expanding services into cloud-based technologies, and Cloud Optik is focused on helping service providers harness the power of data to provide better customer experiences and deeper relationships. "We see data as king," said Sterl. "We will continue to expand not only to UCaaS platforms but also Identity Management Providers as we execute our business plan going forward."
About Cloud Optik
Cloud Optik is a cloud analytics platform that is engineered to connect business intelligence data with proprietary data models to identify and unlock new sources of value for Service Providers and Channel Partners. The platform generates insights across the business, from operational improvements to enhanced customer profile information and new sales opportunities. For more information, visit https://www.cloudoptik.com/.
About BroadSoft
BroadSoft, now a part of Cisco, is a technology innovator in cloud PBX, unified communications, team collaboration, and contact center solutions for businesses and service providers across 80 countries. We aim to empower users and teams to share ideas and work simply to achieve breakthrough performance. For additional information, visit http://www.BroadSoft.com.
About Netsapiens
Netsapiens offers a comprehensive suite of unified communications (UC) services and feature-sets to service providers and large enterprise customers with existing network infrastructure. This includes VoIP, Hosted PBX (UCaaS), SIP trunking, contact centers, device provisioning, multi-tenant user portals and much more. Custom-built to provide its partners with unprecedented levels of flexibility, customization, and ease of use, the SNAPsolution – UC and Collaboration tools – can be quickly deployed so that the company's service provider partners can realize their ROI as quick. For more information, visit http://www.netsapiens.com and follow us on Twitter at @netsapiens.