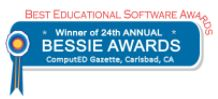 These distinctions are proof of quality for the interactive, content rich online courses that we provide schools and districts across the US
COLUMBIA, Md. (PRWEB) April 25, 2018
Pearson Online & Blended Learning K-12 received three BESSIE awards during ComputED Gazette's 24th Annual Best Educational Software Awards program:
--Best Early Elementary Spelling Skills Website - Connect-a-Majig®
--Best Upper Elementary Math Course Sequence Website - Learning Buddies
--Best Teacher Instructional Support Website - Teacher Central
"These distinctions are proof of quality for the interactive, content rich online courses that we provide schools and districts across the US," said Debbie Vickers, vice president of curriculum development for Pearson Online & Blended Learning. "Supporting licensed teachers with the technology and tools that help foster academic success for students in grades K-12 is a top priority."
The Connect-a-Majig tool brings sound-spelling relationships to life in elementary Language Arts curriculum. Accessible for grades 1-2, interactive technology integrates early literacy skills to support phonics and spelling instruction in lesson content. Students interact with the audio and letter-tile drag-and-drop functionality embedded within the tool to build, segment, and blend words, and listen to words in their complete form.
Learning Buddies are a group of engaging, animated characters that guide elementary students through lessons and promote active learning skills. These characters are featured prominently across the entire mathematics course sequence for grades 1-5. The learning buddies in grades 1 and 2 are a continuation of the buddies used in the kindergarten program, so that students have a consistent "buddy" as they work through their lessons. In grades 3-5, learning buddies are based on real people, whose contributions in the area of writing, math, science, art, and physical education made them leaders in their field.
Teacher Central is a proprietary instructional support website for the certified teachers and school-based staff serving K-12 students nationwide in fully online public schools supported by Connections Academy®, a division of Pearson Online & Blended Learning. The site serves as a one-stop shop for resources to support teacher effectiveness, best practices, and tools for personalizing learning for students. Teacher Central is comprised of a variety of recorded tutorials, presentations, and guides.
The BESSIE Awards program recognizes innovative and content-rich programs and websites that provide parents and teachers with technology to foster educational excellence. Winning programs and websites are selected from publishers worldwide. For additional details, visit the ComputEd Gazette website.
Enrollment is now open in online schools and programs nationwide; learn more about virtual school options in your area.
About Pearson
Pearson is the world's learning company, with expertise in educational courseware and assessment, and a range of teaching and learning services powered by technology. Our mission is to help people make progress through access to better learning. We believe that learning opens up opportunities, creating fulfilling careers and better lives. For more, visit http://www.pearson.com.