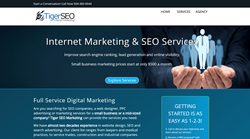 We are proud of our forward thinking contributors who created a website that allows for enhanced user interaction, and introduces business owners and managers to new internet marketing tools and strategies. - Jim Hobson, President
ATLANTA (PRWEB) April 26, 2018
Tiger SEO Marketing, a full service digital marketing agency and website design company, formally announces the launch of its new responsive website. The new responsive HTML website replaces a responsive WordPress website, and offers an enhanced user experience. A unique feature of the new website is the Services landing page. This page allows users to select from a list of common marketing objectives, and then be presented with options relative to their particular need. The benefit from this presentation model is empowering potential clients to quickly identify which services are their best options to improve their situation.
The new Tiger SEO Marketing website has a clean contemporary design and improved functionality. The use of SVG graphics, Schema Markup and AMP companion pages demostrate the company's capabilities and knowledge to create and manage leading edge services. The site features updated mixed media content to present viable and effective internet marketing solutions to solve common online marketing challenges.
Additional content, including more pages and informative articles, is scheduled to be phased in throughout 2018. A key area to be further developed in 2018 is the subject of website and server security relative to mitigating hacking threats and problems with injection malware.
"We are excited about our new website launch, and the important role it will play in our 2018 go-to-market strategy," said Jim Hobson, Tiger SEO Marketing Founder and President. "We are proud of our forward-thinking contributors who created a website that allows for enhanced user interaction, and introduces business owners and managers to new internet marketing tools and strategies. This approach aligns with what differentiates us from our competition - we create superior deliverables blending technical expertise with real-world business knowledge."
The new site was built using HTML and advanced coding methods to achieve top scores on the Google Page Speed Insights (GPSI) tool and Pingdom. GPSI scores the website 94/100 for mobile search and 96/100 for desktop search. Pingdom scores the website 93/100 with a page load time of 1.38 seconds.
The information on the new website was created to be both promotional and informative. The Company recognized a need to go beyond simply presenting what it can do, and educate clients on trends, opportunities, and best practices. In particular, the website will continue to focus on best-practices for achieving improved ranking with methods that conform to Google's preferences and requirements.
Tiger SEO's new website also features a Careers section which publishes job openings. The company's growing need for internet marketing and web design specialists mandated the need to be more proactive in soliciting quality applicants. The Careers section includes specific information on the company's culture and expectations of employees and contractors. Additionally, the area calls out the active use of E-Verify, drug testing and background checks to assure the company hires only quality personnel.
About Tiger SEO Marketing
Tiger SEO Marketing is a full service digital marketing agency, owned by E-Platform Marketing, with locations in Atlanta, Georgia, and Baton Rouge, Louisiana. The company offers web design and development, and a wide range of customized internet marketing services and products. Tiger SEO Marketing's services have been utilized by small to mid-sized companies throughout the United States.
For more information on the Company, its products and services, please visit https://tigerseomarketing.com.