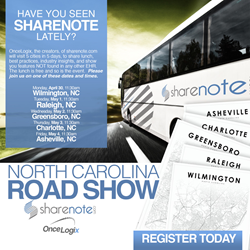 WINSTON-SALEM, NC (PRWEB) April 24, 2018
Sharenote.com, an award-winning electronic health record system designed specifically for the behavioral healthcare industry, is going on tour.
Oncelogix, LLC, a Winston Salem, North Carolina based company, the makers of Sharenote.com, intend to visit five cities in five days to host free "Lunch and Learns" with Mental Health professionals interested in taking their practice to the next level. Each event will host OnceLogix executives and industry professionals to share best practices, innovative tools and the Sharenote.com "secret sauce." Sharenote.com is a practice management tool and is currently used by 487 Mental Health Provider agencies in 14 states across the U.S.
Sharenote.com was created to address the various needs of Mental Health Professionals to free them up from the mounds of documentation for them to do what they do best and that provides top-notch mental health services.
"If you do not listen to your clients and are not innovative, you're not adding value," said Rod Brown, COO of OnceLogix. "We launched this tour to introduce Sharenote.com and demonstrate how sufficient this system is. It is our mission to add value to those we serve."
You'll see and learn about the following Sharenote.com tools and resources:

Quick Billing Suite • Billing Reconcilement Support Staff
Electronic EOBs • Bill Any Funding Source
E-Scripts • Electronic Signatures
Customizable Assessments • Any Progress Note Format
Staff Training and Certification Tracker • Executive Productivity Metrics
Online Training Tools • Onsite Training
Utilization Management Suite • Scheduling Suite
NO Software To Install • NO Startup Cost
Free Updates • Manage Multiple Sites
Cost Cutting Features • Revenue Enhancement Features
Metrics and Reports Galore
Lunch and Learn Training Schedule:
Wilmington - Monday, April 30, 2018, at 11:30 a.m.
Address: Hilton Garden Inn Mayfaire/ Courtyard by Marriott
151 Van Campen Blvd., Wilmington, NC 28403
Raleigh – Tuesday, May 1, 2018, at 11:30 a.m.
Address: Hilton North Raleigh/Midtown
3415 Wake Forest Road, Raleigh, NC 27609
Greensboro – Wednesday, May 2, 2018, at 11:30 a.m.
Address: Sheraton Greensboro Hotel At Four Seasons
Joseph. Koury Convention Center
3121 West Gate City Boulevard, Greensboro, NC 27407
Charlotte – Thursday, May 3, 2018, at 11:30 a.m.
Address: Fairfield Inn and Suites - Charlotte Uptown
201 S. McDowell St., Charlotte, NC 28204
Asheville – Friday, May 4, 2018, at 11:30 a.m.
Address: Hilton Garden Inn – Asheville Downtown
309 College Street, Asheville, NC 28801
Click here to register for this event
https://sharenotencroadshow2018.eventbrite.com
To learn more about OnceLogix LLC, log onto http://www.oncelogix.com. To learn more about Sharenote.com visit http://www.sharenote.com.