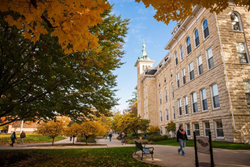 "We are pleased to be partnering with Akademos to provide our students with a wider variety of course materials, flexible purchasing options, and an easy-to-use, integrated platform that will support our students' success..." - Maryellen Skerik, vice president of finance, North Central College
NORWALK, Conn. (PRWEB) April 25, 2018
North Central College in Naperville, Illinois, has selected Akademos as its online bookstore provider to help students obtain significant savings on course materials, a wider selection of textbook formats and payment options, and a best-in-class personalized ordering experience. The College plans to launch its online bookstore in the fall of 2018.
Seamless integration between the College's student information system and the Akademos Course Materials Platform (CMP)TM will allow students to see a personalized listing of the textbooks required for each of their courses and order materials for an entire term in less than five minutes. Additional student benefits include free shipping for all retail orders over $49 and a catalog of over 1MM digital course materials that are accessible immediately upon purchase.
A wide selection across new, used, rental and eBook formats will be offered, and when using Akademos' proprietary peer-to-peer Marketplace of more than 100 million new and used textbooks, students will save an average of 60 percent off publisher list prices on their course materials. Additionally, students will have the freedom to use financial aid vouchers on all textbook purchases, including significantly discounted marketplace items.
"Textbook affordability and accessibility are key concerns when we consider giving our students the tools they need to succeed," said Maryellen Skerik, vice president of finance at North Central College. "We are pleased to be partnering with Akademos to provide our students with a wider variety of course materials, flexible purchasing options, and an easy-to-use, integrated platform that will support our students' success, and that of the College."
The online bookstore will also support the College's faculty and administrators, who will benefit from an easy-to-use and powerful Adoption & Analytics Portal. This platform offers a step-by-step guide for course material adoptions, recommendations, and adoption history, and the ability to compare real-time prices for course materials. The analytics tool will also enable North Central College faculty and leadership to track critical data, including student purchasing and bookstore utilization.
"We're pleased to be working with North Central College," said John Squires, CEO, Akademos. "In our experience, providing more affordable and accessible textbooks and course materials results in more prepared students which, ultimately, results in more successful students. We look forward to supporting this goal, which will also facilitate the overall success of the College."
About Akademos:
Akademos offers customized, online bookstore services and solutions that support what's most important to institutions - from full-service virtual bookstores to unique partnerships and products supporting on-campus shops. Akademos delivers cost savings on course materials for students while providing administrators and faculty with critical control over the textbook delivery process.
Akademos offers an innovative textbook marketplace, best-in-class eCommerce platform, eLearning solutions, and a unique adoption and analytics portal. The company's comprehensive supply-chain solution and commitment to responsive personal service makes it the choice of leading institutions throughout the country.
Akademos helps institutions deliver the right course materials, at affordable prices, on time. Learn more at akademos.com.
About North Central College:
Founded in 1861, North Central College is an independent, comprehensive college of the liberal arts and sciences that offers more than 65 undergraduate majors and six graduate programs. With more than 2,900 students, North Central provides a rigorous, student-centered education and fosters a diverse, inclusive and globally engaged community that prepares students for action and leadership in a complex world. Just 30 minutes from Chicago's Loop, the campus is located in the Historic District of Naperville, Ill.—rated by Money magazine as among the nation's "Best Places to Live" and by niche.com as the 2nd "Best Places to Live in Illinois." Visit northcentralcollege.edu and discover what it means to #BeCentral.