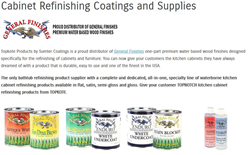 Adding kitchen cabinet refinishing to your services only makes sense and if you're not, you're missing out.
SUMPTER, S.C. (PRWEB) April 26, 2018
Topkote Products, one of the largest bath and kitchen paint suppliers for professional bathtub refinishers, announced today the launch of their highly anticipated cabinet paint product line manufactured by General Finishes. The new eco friendly, water borne, single component cabinet paint line includes a stain blocker primer, undercoat primer, milk paint topcoat, glaze effects for giving cabinets that shabby chic distressed look, white poly topcoat, clear poly topcoat, accelerator and extender. The white poly topcoat and clear poly topcoat are available in flat, satin, semi-gloss and gloss sheens. Professional bathtub refinishers can now offer their customers a complete kitchen overhaul using one of the best paints for kitchen cabinets available for less than the cost of cabinet refacing or a complete remodel.
"This is the perfect complement to a bathtub refinisher's arsenal. Refinishers are already refinishing countertops why not include cabinets. They usually have all the equipment they need and if they can refinish a bathtub or countertop, they can refinish kitchen cabinets," says Topkote Product Manager George Piccot. "Adding kitchen cabinet refinishing to your services only makes sense and if you're not, you're missing out."
TOPKOTE PRODUCTS by SUMTER COATINGS
Topkote Products by Sumter Coatings is a leading bath and kitchen paint supplier that provides bathtub refinishing, tile refinishing, countertop refinishing and cabinet refinishing products to professional refinishers. They also offer state of the art professional "hands on" bathtub, tile and countertop refinishing training which includes refinishing multiple bathtubs, a step-by-step manual & video, multi-color paint applications on countertops and tile, sales and marketing assistance and a certificate of completion as a trained Topkote Professional.
Topkote Products was founded after recognizing the need for a true bathtub refinishing "SYSTEM" that held the highest of standards. The idea was to create a business that would grant a professional reglazer with a "SYSTEM" that would be easy to use and fast to learn while maintaining the luxury of a superior product.
The ability to sell high-quality bathroom and kitchen refinishing products is something that we take great pride in and we believe there are a large number of refinishers who would like the ability to purchase a quality tub, tile, countertop or cabinet paint that is 100% reliable. Topkote Products by Sumter Coatings is happy to be able to provide the outlet to do so.
For more information on Topkote.com or to browse the cabinet refinishing products selection please visit http://www.topkote.com/categories/cabinet-refinishing-coatings