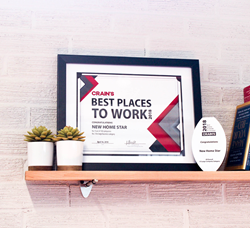 CHICAGO (PRWEB) April 25, 2018
New Home Star, the largest private seller of new homes in America, was named the third best firm in the large category, and ninth overall, through the Best Places to Work award hosted by Crain's Business Chicago. The methodology employed in crafting the rankings is based on an intensive, two-part assessment. First, an analysis of the company's benefits package that looks at perks such as compensation, training, and company culture. This was followed by an employee-wide survey that reviewed the opinion and well-being of the team.
"Since our founding ten years ago, we set out to disrupt the homebuilding industry with an engineered approach to the home buying process that leverages the latest technology," says New Home Star Founder, David Rice. "I believe that we can only achieve this vision by recruiting, retaining, and building meaningful careers for the best talent available in the workforce. That is why it's humbling not only hear that our employees are giving such incredible feedback, but that it's coupled with immense annual growth for our organization."
The highly coveted honor was announced after an overhaul of initiatives by New Home Star aimed at improving employee satisfaction, including a company-wide retreat in Cancun, expansion of its Leadership Development Program, and additional investment into New Home Connect™, the company's proprietary platform that houses everything from training to payroll in a central place.
"Our goal is to build the best sales team in the world; we will continue to strive toward creating an incredible workplace environment for the professionals that are part of this organization and make all of this possible," says New Home Star VP of Organizational Development, Keith McKinney. "The homebuilding industry is experiencing a major resurgence in great careers, and we are excited to keep moving forward with this trend."
In addition to the Crain's Best Places to Work award, New Home Star has also recently been named the #2 ranked firm in America by Glassdoor in the small & medium sized category for 2018. This designation represented the highest ranking, since the inception of the award, for a real estate company.
To find out more about the Crain's Best Places to Work Program and to view the official rankings, please visit the following link.
About New Home Star
Founded in 2008, New Home Star is the largest private seller of new homes in the U.S. Leveraging state-of-the-art technology to channel decades of experience into engaging sales training and operational tools, New Home Star rapidly transforms newly hired sales professionals into competitive advantages for builder partners. Working with a builder base that includes some of the largest homebuilders in the U.S. and Canada, New Home Star recruits, selects and develops sales teams with a full-time focus on new home sales delivering new home sales strategies with a national perspective and a local presence. The business goal is simple: To Sell More Homes, More Profitably™. For more information visit http://www.newhomestar.com.