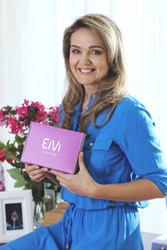 EiVi underwear is not period panties in a traditional sense. Rather than absorbing liquid, EiVi panties have built-in pockets designed to hide wings of a sanitary napkin.
Orland Park, IL (PRWEB) April 25, 2018
A Story of Mother and Daughter
Most moms are delighted when their teenage daughters confide in them with their problems. After all, mothers usually cherish every moment they get to bond with their teenagers.
When, however, your mother is a known innovator and product developer, things tend to go beyond late-night talks and school projects…
One day, a teenage daughter of Vilmante Markeviciene confided in her that she often feels embarrassed to change in school's locker rooms when she's on her period. The young girl and most of her friends prefer sanitary napkins with wings, which, unfortunately, stick out as a big white flag advertising that the wearer of the pad is on her period.
Not a big deal for a liberated grown woman who is so over period shaming, yet a major embarrassment and source of frustration for a teenager who has recently started her period.
Vilmante happened to be a founder of Genial Day, a successful maker of organic pads with negative ion technology. A passionate product developer with a knack for design and sewing, she started thinking that there must be a way to design panties capable of hiding the pad wings and provide the freedom usually associated with tampons.
After weeks of sketching and lengthy discussions with her most demanding critic and customer – her daughter Eiva – Vilmante came up with an innovative design. Then, after patenting her invention and meeting with various clothing manufacturers, Vilmante was confident that she is ready to start a new product line.
As a token of the successful mother/daughter collaboration, she has named the new underwear collection EiVi [pronounced: a-vee], which is a portmanteau of their respective first names: Eiva + Vilmante.
Period Panties? Stylish Undies? Both?
EiVi underwear is not period panties in a traditional sense. Rather than absorbing liquid, EiVi panties have built-in pockets designed to hide wings of a sanitary pad. They are most effective when used with super thin Genial Day pads. When wearing EiVi panties, women can expect discretion and the ultimate protection from leaks without sacrificing convenience and comfort.
EiVi panties can be worn every day, not just during a period. Just like you can wear your jeans without having anything in their pockets, you can wear your favorite EiVi panties with or without a pad.
"There are many period panties. I tried them, but they are not for me", says Vilmante. "I don't like the moist feeling and they are not convenient since they cannot be changed as often as you can change a pad or tampon."
Features and Benefits
EiVi panties are offered in three different models:
Cheekini -- bold panties with lace
Comfy Hipster – our recommended model for period days because of its superior coverage and higher waistline
Hiphugger – the sportiest version
In addition, EiVi line features a cotton bra to match your bottoms, as well as a luxury sports bra.
Anyone who is familiar with the Genial Day brand knows that their mission is to create products that are sustainable and do no harm to women's health. EiVi products are held to the same high standards.
Following recommendations of gynecologists, EiVi underwear is made with the highest quality organic cotton which is dyed using toxin-free dyes. This is important because panties rub against your most intimate body parts which tend to absorb everything like a sponge (whether it's good or bad).
Finally, EiVi panties are covered with a patented technology called SILVERPLUS®. SILVERPLUS® (silver ions) is a fabric finish which is applied to the fabric along with the dyes, so it sets deeply in the fabric and cannot be washed out.
This finish is developed by a German company, is EPA-registered, and certified by OEKO-TEX®-Standard 100 and Bluesign®.
QUALITY AND FUNCTIONALITY. Unique silver ion technology provides superior skin protection, hygiene, and cleanliness while preventing multiplication of bacteria that cause an unpleasant odor.
SUSTAINABLE FABRIC CARE. Products treated with SILVERPLUS® technology can be washed in colder water, which will result in energy savings. No need to worry -- your laundry will come out clean.
EFFECTIVE. SILVERPLUS® bonds with textile without the use of any additional chemicals or bonding materials. Silver finish stays on after multiple washing cycles; even regular detergent won't remove it.
ENVIRONMENTALLY FRIENDLY. The SILVERPLUS® material has no known negative effects on our environment. Silver ions released back into our environment won't increase normal levels of silver that is naturally found in soil. This material does not affect important bacteria that provide biological cleaning in the sewage.
SKIN FRIENDLY. The cytotoxicity test for safety on the skin has shown that SILVERPLUS® has no impact on the skin's natural balance.
Who is EiVi for?
Every woman will benefit from luxurious cotton underwear with SILVERPLUS® technology. However, we believe that EiVi is a true companion for life in following cases:

Teenage girls just starting their period
Women who prefer maxi pads over tampons
Women who stay active during their period and wish to feel confident and discreet while at the doctor's office, getting a massage or attending a yoga class
Women who suffer from rash or skin irritation
New moms recovering after a C-Section birth
Health and Sustainability
EiVi only partners up with the best manufacturers in the industry. The textile industry is one of the world's most heavily polluting industries. We don't want to be a part of this pollution. Our goal is to change the status quo by demonstrating that it is possible to make beautiful, fashionable underwear and premium quality pads and liners with minimal impact on the environment and human health.
Our partner factories are certified with ISO 9001, ISO 14001, and GMP (Good Manufacturing Practice). Our underwear factory is a member of the DETOX campaign–a global eco-initiative by Greenpeace–and is certified with Global Organic Textile Standard, as well as Organic Content Standard.
ABOUT GENIAL DAY®
GENIAL DAY® is a family-owned company founded by a woman and a mother, who was concerned about her own health and health of her teenage daughter. The Illinois-based company is a fast-growing developer and importer of functional premium quality feminine hygiene products. Their patented products are toxin-free and include unique sanitary napkins, menstrual cups, and an intimate apparel line, EiVi®. GENIAL DAY® products are certified by multiple international entities. The company was a finalist for the 2017 Supply Side CPG Editor's Choice Award for Innovation and Market Impact.