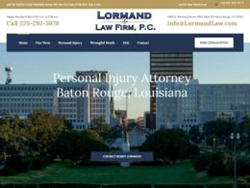 We are excited about our new website, how it serves our clients, and the important role it will play in our 2018 business development strategy." - Attorney Bobby Lormand
BATON ROUGE, La. (PRWEB) April 26, 2018
The Lormand Law Firm, the private practice of attorney Bobby Lormand, formally announces the launch of its new mobile-friendly website. The new responsive HTML website offers an enhanced mobile search experience through companion accelerated mobile pages (AMP). The launch of the new website is part of the 2018 marketing campaign to promote law firm representation for persons needing a nursing home abuse attorney, or medical malpractice lawyer in Baton Rouge, Louisiana.
The new Lormand Law Firm website has a bold, contemporary design and updated informative content. Users of the new website can learn important facts including their rights to file a lawsuit, restrictions, and how the law firm can serve them. The website includes representative examples of the law firm's experience and success in numerous cases. Additional content, including more pages and informative articles, is scheduled to be phased in throughout 2018.
The Importance of AMP Design
The law firm chose to go further than a basic website after recognizing that the volume of mobile searches exceeds desktop searches. Accelerated mobile pages (AMP) are the cornerstone of Google's Mobile First initiative. AMP's are specially coded website pages which provide ultra-fast page load times for pages viewed on mobile devices. Google widely implemented the Mobile First initiative in late 2017 and provides a premium experience for mobile search users. AMP pages empower users to get the information they need, with the fastest possible page load times.
"We are excited about our new website, how well it serves our clients, and the important role it will play in our 2018 business development strategy," said Bobby Lormand, Lormand Law Firm Founder and Owner. "In our pursuit to improve our public presence we felt that modernizing our website was an essential need. We understand that in many instances our website may be the first point of contact people have with our law firm."
The new website will support the firm's 2018 business development strategy including online and offline campaigns. The website includes landing pages for paid search advertising and serves as an engagement platform for prospective clients reached through local search marketing efforts.
About Lormand Law Firm
Lormand Law Firm, located in Baton Rouge, Louisiana, is the private practice of attorney Bobby Lormand. The law firm, founded in 1994, represents clients in the State of Louisiana in matters of medical malpractice, caregiver and nursing home abuse. The law firm is well known for its client friendly "No Fee Unless We Win" policy. For more information on the law firm, its services and history, please visit https://lormandlaw.com.