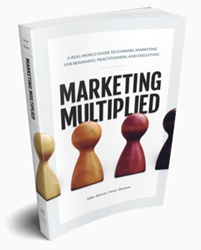 BOSTON (PRWEB) April 25, 2018
Today, channel marketing veterans Peter Thomas and Mike Moore introduce "Marketing Multiplied: A real-world guide to Channel Marketing for beginners, practitioners, and executives," the industry's first comprehensive guide to indirect marketing. Building on more than 40 years of combined experience, Thomas and Moore have catalogued the skills and best practices that are key to building a successful channel marketing program. Topics covered include how best to engage partners, how to create programs that generate outcomes, and how to develop the right type of content that will generate measurable results. "Marketing Multiplied" is now available on Amazon and BarnesAndNoble.com. For more information, please visit https://marketingmultiplied-book.com/.
"There are nearly 2 million people on LinkedIn with channel marketing job titles and more than 23,600 job listings in this industry. Even with so many professionals in this space, the industry is still woefully behind the times with many still not fully understanding how to best utilize their channel partner program," said Peter Thomas, CEO of Averetek and co-author of "Marketing Multiplied." "Until now, there's never been a go-to resource for channel marketing professionals to build on their skills and knowledge. Whether you're a seasoned pro or new to your role, this book offers fresh ideas and solutions for how to successfully establish, execute, and maintain your channel program."
"Marketing Multiplied" blends practical frameworks and real-world examples from Moore and Thomas' experience running Averetek, the world's largest provider of channel marketing automation software. In the book, the authors renounce the "random acts of marketing" approach and provide readers with a clear understanding of the four pillars of a successful channel program: Marketing to, with, through, and for channel partners. By understanding these approaches, readers will discover strategies and tactics that will evolve their channel partnerships into high-performing programs.
"When done correctly, channel marketing can multiply your sales exponentially, but when done wrong you can bleed through your marketing budget with little to show for it," said Douglas Burdett, host of The Marketing Book Podcast. "Marketing Multiplied provides the practical tools and tips that channel marketers can apply to their efforts today and will quickly become a resource to revisit when stuck."
Thomas and Moore's and approach distills channel marketing into distinctive, digestible pieces, providing readers with strategies to get the support needed from their leadership team and the results they want from their channel partners. By orienting channel efforts around a modern marketing strategy, all professionals - regardless of skill level - can create programs that effectively address their business objectives.
"Marketing Multiplied" is available for purchase via Amazon and BarnesAndNoble.com. For more information, please visit https://marketingmultiplied-book.com/
About Averetek:
Averetek is the largest provider of channel marketing automation software in the world with over 320,000 users from 70,000 channel partner organizations in 160 countries. Averetek is the partner-led demand generation engine for leading brands like SAP, Pure Storage, Splunk, SonicWALL, and Avalara. Averetek's clients use the platform to enable their channel partners to plan and execute a variety of marketing campaign tactics through simple workflows that generate pipeline and revenue. For more information, please visit http://www.averetek.com