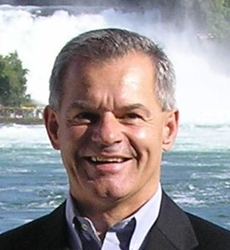 "LEID Products is excited to welcome Pete Kujawski to our team. Pete has had great success in all aspects of his life include military, commercial and personal."
AUBURN HILLS, Mich. (PRWEB) April 24, 2018
LEID Products, LLC, the leader in biometric asset protection and control systems, today announced its recent hiring of retired U.S. Army Colonel and award winning sales and marketing executive, Peter Kujawski, as the company's Vice President of Business Development. In his new role, Kujawski will focus on accelerating LEID's presence in the U.S. and international markets.
Kujawski has dynamically driven sales growth in the private sector including: as Vice President of Sig Sauer, Inc. for 8 years; Business Development Director for Nanocomp Technologies and View, Inc. Kujawski retired from the U.S. Army as a Colonel serving in leadership assignments in the US, Europe and the Middle East. His homeland security, military operations and training experience will serve LEID and their customers extremely well. Colonel Kujawski was awarded the Legion of Merit for his actions post the World Trade Center attacks of 9/11. Kujawski holds a Bachelor of Science in Chemical Engineering from Worcester Polytechnic Institute and a Master of Business Administration from Golden Gate University.
"I am delighted to be joining the exciting team at LEID Products," said Kujawski. "I chose LEID because of its company values, family-like environment and powerful technologies. The applicability of LEID's biometric access control systems to the military, law enforcement, homeland security and commercial/government building markets is unlimited and a natural fit with my prior commercial and 30-year military career experience."
Kujawski's experience with technical products fits well with LEID Products' portfolio with patented biometric technology for safeguarding armories, preservation of chain of custody for law enforcement and accountability of access for any application protecting sensitive or critical assets.
"LEID Products is excited to welcome Pete Kujawski to our team. Pete has had great success in all aspects of his life include military, commercial and personal," said Sam Hoff, Managing President of LEID Products. "Pete has a proven track record of being able to sell and conducts himself with the highest level of integrity. Our patented technology for securing critical assets, including weapons and evidence, is second to none. We are excited that Pete will help us make our society safer by ensuring weapon security."
About LEID Products:
Law Enforcement Intelligent Devices (LEID), LLC is the manufacturing leader of biometric asset storage protection and control. Originally founded to assist police departments in securing guns, weapons, radios, etc. through an electronic tracking and fingerprinting system, LEID products are also utilized to track books within a library system, medical supplies, laptops and even business documents to selected personnel. Their Biometric Access Control Systems (BACS™) streamlines operations and provides full accountability for critical business assets. For more information and demonstrations of our products, visit http://www.leidproducts.com.