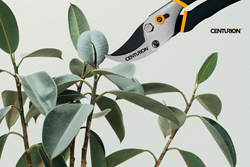 Dads are great at helping things grow, so celebrate them with these five unique garden gift ideas
PHILADELPHIA (PRWEB) May 23, 2018
Dads are always looking for fun, outdoor activities to share with their family. Enter gardening.
Here are products that make any busy dad's life better:
1. The right tool for the job: A well-pruned plant not only looks better and blooms more, but it is healthier too. Centurion Brand Pro-Adjustable Bypass Pruner ($14.99) cuts through any size branch, making pruning a snap and Dad look like a hero. The new bypass pruner features adjustable large or small grip sizes for cutting branches up to 1-inch thick. With just a flip of the switch, snip thin or heavy branches easily. Perfect for a variety of cutting and pruning jobs, it features precision ground high carbon steel blades that are non-stick for smooth cutting.
Visit Centurionbrands.com for more info.
2. Compost Tumbler: What better gift for the eco-friendly dad than a compost tumbler? Composting enriches soil, saves water and reduces landfill waste! The best model for beginners, the Back Porch, ($199) was developed for small gardens and makes compost in as little as 4-6 weeks. The mobile design includes two wheels for easy and lightweight transport. It comes with a free compost starter kit ($60 value). Because dads like to get a little dirty, too.
Available at Mantis.com.
3. Vibrant, Edible, Compact Plants: Give the gift of delicious summer fruit and choose one of the new edible berry plants from Bushel and Berry™. Everyone will love these ornamental shrubs — they provide healthy, homegrown food and their beautiful foliage adds color to the garden throughout the seasons. With flowers starting in the spring, colorful berries popping up in the summer and stunning color lasting into the fall, Dad will enjoy this gift long after the holiday is over.
Visit BushelandBerry.com to find a garden center near you.
4. Plant a Tree: Plant a tree in Dad's name for a gift that will keep giving for generations to come. Along with their beauty, trees provide endless benefits to people. Spending time around trees has been proven to improve physical and mental health. Trees can also save parents money by reducing energy bills. Check with your local arborist to learn which trees are best for your region.
The professionals at Davey Tree can help ensure the new tree lives a long time.
5. Start! Bloom! Grow!: Make dad's life easier for months to come with Espoma's new line of liquid organic plant food, Start!, Bloom! and Grow! Made with natural ingredients, they're safe and healthy for plants, vegetables, and also around kids and pets. Plus, fertilizing couldn't get any easier with the new, innovative Easy Dose cap.
Check your local garden center for availability.
Garden Media specializes in home and garden, horticulture, outdoor living, lawn and landscape industries, offering innovative PR campaigns designed to secure top media placements and partnerships.