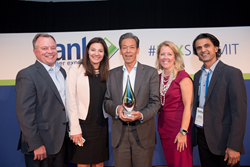 LOUISVILLE, Ky. (PRWEB) May 01, 2018
The Amazons, Starbucks and Ubers of the world have completely re-imagined what it means to provide an optimal digital shopping experience. And the likes of Walmart, Target and others continue to add elements of e-commerce into their physical stores.
As a result of these changes, consumers now expect the same kinds of experiences with all brands, not just retailers. Banks fall into that mix. And now more than ever, financial institution executives consider Amazon to be their toughest form of competition instead of the bank down the street.
That being said, the annual Bank Customer Experience (BCX) Summit is back to help the industry identify the banks and fintech companies that are doing their part to provide great and smooth customer experiences in their respective realms.
And this year, as in previous years, BCX organizer Networld Media Group will be recognizing four organizations that best demonstrate the most effective strategies and methods for winning the confidence and loyalty of a new generation of digital natives.
Through Friday, June 15, we'll be accepting entries from innovative, consumer-focused financial institutions and fintech providers whose unique strategies and technologies are heightening the consumer experience in four categories:

Best Branch Experience;
Best ATM/Self-Service Experience;
Best Mobile Experience (financial institution); and
Best Mobile Experience (fintech provider).
Judges will include the editors of ATM Marketplace and Mobile Payments Today, as well as respected industry analysts and consultants. They'll weigh the merits of each entry on the basis of:
innovation;
originality;
quality;
usefulness; and, of course,
consumer experience.
Qualifying entries must represent fintech products or services introduced between May 1, 2017, and May 1, 2018, either in a pilot deployment or as a full rollout.
For your entry, you will be asked to provide:
a brief description of the consumer experience (100 words or fewer);
an explanation of attributes and capabilities that make your offering unique to the market; and
a link to a website or video about the submitted technology or financial institution.
Winning entries will be selected and winners notified by July 16. Awards will be presented Sept. 13 during a banquet at the Sofitel Chicago Magnificent Mile. Award winners will receive a complimentary ticket to the dinner.
Enter the 2018 Bank Customer Experience Tech Awards.
View the 2018 BCX Summit agenda.
Register for the Bank Customer Experience Summit, Sept. 12–14, at the Sofitel Chicago Magnificent Mile. Early Bird rates are in effect until June 8.
About Networld Media Group
Founded in 2000, Networld Media Group is a leading business-to-business (B2B) global media communications company specializing in digital media, associations and events in the mobile, self-service, digital signage, retail, food service and financial services industries. Online properties include ATMmarketplace.com, BlockchainTechNews.com, DigitalSignageToday.com, FastCasual.com, FoodTruckOperator.com, KioskMarketplace.com, MobilePaymentsToday.com, PizzaMarketplace.com, QSRweb.com, RetailCustomerExperience.com and BiblicalLeadership.com. Networld event properties include the Fast Casual Executive Summit, CONNECT: The Mobile CX Summit, Interactive Customer Experience Summit, Bank Customer Experience Summit and the Restaurant Franchising & Innovation Summit. Networld also operates the ICX Association. Its newest offering, Networld Press, provides clients with an all-in-one website solution featuring custom website design and ongoing editorial, content strategy and website updates.
###