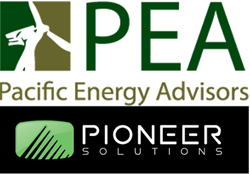 After considering a variety of software alternatives, Pioneer was viewed as the best suited option to support our valued clients.
DENVER (PRWEB) April 26, 2018
Pioneer Solutions, a leading global provider of energy portfolio and risk management software solutions, announced today that Pacific Energy Advisors (PEA) selected Pioneer's TRMTracker energy trading and risk management (ETRM) system to support PEA's client operations. PEA is taking advantage of Pioneer's Software-as-a-Service (SaaS) delivery model via TRMTracker.com, a web-based environment that helps to simplify implementation, accelerate time-to-market and gain ongoing processing efficiencies, while requiring minimal IT support.
Pacific Energy Advisors is a leading provider of electric portfolio management services and the preeminent technical consultant for California Community Choice Aggregators, which is a perfect fit for TRMTracker.com.
"We are excited about the opportunity to provide our clients with enhanced portfolio management capabilities, and Pioneer's SaaS ETRM solution will be a key tool in delivering upon this objective," says John Dalessi, President of Pacific Energy Advisors. "After considering a variety of software alternatives, Pioneer was viewed as the best suited option to support our valued clients."
Pioneer SaaS accommodates growing businesses who need a modern, agile business solution that is cost-effective and scalable. Delivered via TRMTracker.com, Pioneer SaaS offers a compelling value proposition to companies that do not require customized enterprise level solutions for basic deal capture, position management, and standard reporting for mark-to-market and P&L.
"Pioneer is well positioned to meet the needs of companies like PEA who want to take advantage of the simplicity and high-performance of cloud-based ETRM Software-as-a-Service", said D.J. Chance, Pioneer's Director of Sales North America. "TRMTracker.com leverages Pioneer's highly configurable system and makes Tier-1 C/ETRM functionality accessible to non-enterprise level customers in a cost-effective way."
Voted as Top 2 'Best Cloud-based CTRM/ETRM System' in the 2018 edition of the Energy Risk software survey, TRMTracker is a next-generation C/ETRM system with robust integration capability to external data sources. A "live" system, it provides the real-time processing capability to deliver the automation that reduces the burden on traders, portfolio managers, forecasters, settlement staff, and business leaders. As a result, operational risks will be minimized, market opportunities can be capitalized upon, and process efficiency increased. TRMTracker.com offers non-enterprise level users a standard set of tools across the front, mid and back office functions, including workflow, data import and innovative reporting capability.
About Pioneer
Pioneer Solutions is a global provider of C/ETRM, environmental management, and financial and regulatory compliance solutions. Serving utilities and trading companies across the globe, Pioneer's suite of flexible software applications delivers easy-to-use and integrated functionality for Trade Capture, Position Analysis, Portfolio Management, Risk Reporting and Settlement, thereby providing the insight and granularity to manage operations optimally. The company's pioneering and award-winning software offers a user-configurable environment designed for rapid deployment, resulting in a lower total cost of ownership and enhanced customer satisfaction.