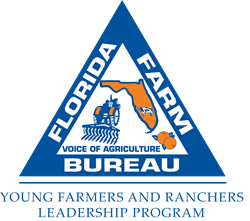 GAINESVILLE, Fla. (PRWEB) April 25, 2018
Florida Farm Bureau Federation is providing $2,000 in scholarships for members to attend the Young Farmers and Ranchers Leadership Conference, July 13-15 in St. Augustine.
Eight $250 scholarships will be awarded to Farm Bureau members between the ages of 18-35 to attend the conference. Priority will be given to first-time attendees.
"Our young people are the future of agriculture," said Michele Curts, Leadership Programs Coordinator for Florida Farm Bureau. "Through these scholarships, we hope to encourage the next generation of farmers to take advantage of this excellent networking and educational conference."
Themed "Rooted in Agriculture," the three-day conference will be held at the World Golf Village Renaissance St. Augustine Resort. This year's conference will include a Discussion Meet competition among young agriculturists, engaging sessions on the latest in agriculture, Activity Awards recognizing young people for community service and lots of fun activities.
Registration for the conference is $125 per individual, plus lodging. A discounted early bird registration price is available until June 1. To apply for a scholarship, visit https://bit.ly/2HLMTAk. The deadline for scholarship applications is June 7, 2018.
Florida Farm Bureau, the state's largest general agricultural organization, represents more than 146,000 member-families. We serve to enhance farm enterprise and improve rural communities.