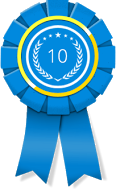 MIAMI (PRWEB) April 27, 2018
Recently, 10 Best Design chose the winners of its Best Miami Web Design Firm awards for April 2018, honoring Decographic with the first-place spot.
Every month, 10 Best Design puts together different lists of companies that are doing well in various areas within the field of web design. For the month of April 2018, they have created their most recent list, which includes a group of companies that potentially qualify for the title of Best Web Design Firm in Miami. The following are the top three companies on this list, as well as a brief description of each contender.
The company that emerged at the top of the list of best Miami web development businesses is Decographic. This company is all about helping the marketing campaigns and brands of their clients speak for themselves. They use human-centered design and innovative strategies to devise creative communication solutions for the brands of their clients. They have many skilled professionals in the areas of printing, digital marketing, web development and design, and graphic design who all work together to create an excellent solution that can increase the revenue of any client.
Second in the ranking as a top web design firm is Absolute Web Services. This creative digital commerce agency was established in 1999 and promises positive results when it comes to any type of marketing that can be done for a business. There is an extremely talented team that works for the company, and they include eCommerce managers, web designers and developers, marketing experts, and content creators. They are all willing to collaborate to make their clients' websites and other aspects of digital marketing as effective as possible. They not only know how to design good-looking websites, but they will also do the appropriate research in terms of looking at the competition, successes, failures, and other sorts of trends that can help them build the most successful website possible.
The Number 3 contender as a leading web design firm is Fuze Inc. This full-service digital agency and website design company takes pride in its ability to mix design, strategy, and knowledge of technology in order to help clients grow in the digital world. They work on online marketing campaigns, design and development of both web and mobile apps, and other sorts of integrated solutions that will be sure to bring success to their clients. They are all about guiding brands into the future.
To learn more about this month's award-winning firms, visit http://www.10bestdesign.com.