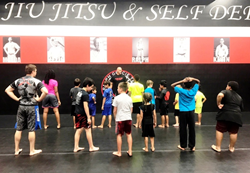 Self Defense instruction is increasingly important. Our summer camps can provide kids with valuable basic self-defense instruction. - Professor Kevin Bellard, Owner Bayou Jiu Jitsu
BATON ROUGE, La. (PRWEB) April 26, 2018
Bayou Jiu Jitsu has announced plans for two Self Defense for Kids Summer Camps to be held at the Bayou Jiu Jitsu training center in Baton Rouge. These fun instructional sessions are designed to teach some basic self defense skills to children. Students of any age or experience level, from begnner and up, can join either or both sessions.
Why Choose Bayou Jiu JItsu
Bayou Jiu Jitsu is the only true Gracie Jiu Jitsu academy for self defense lessons in Baton Rouge. The business is owned and managed by Professor Kevin Bellard, a Gracie Black Belt under Master Ralph Gracie. Professor Kevin Bellard is a friendly and patient instructor who offers expert instruction in Brazilian Jiu Jitsu, Self-Defense, Judo, Wrestling, and Bully Prevention. Bayou Jiu Jitsu Academy's mission is to provide each individual with the instruction, guidance, and support needed to allow each person to achieve their goals.
About the Summer Camp Sessions
Our week-long sessions are more than just self defense lessons. We will blend in off-site fun activities at local venues. During the daily activities of the Summer Camp we encourage Focus, Respect and Self-Discipline. These valuable life skills are incorporated throughout the day in Jiu Jitsu sessions as well as other activities. Our objective is to help kids develop confidence and a better attitiude while gaining important knowledge of practical methods for personal self defense.
The dates for our two sessions in 2018 are June 4-8, and July 23-27. Class space is limited, and available on a first-come-first-served basis. For more information you may call 225-505-8500 or visit our website via the link found below.
About Bayou Jiu Jitsu
Bayou Jiu Jitsu, in Baton Rouge, Louisiana, is a martail arts and self defense academy which offers expert training in Brazilian Jiu Jitsu. Bayou Jiu Jitsu offers group training for all ages and any skill level. Advanced training is available for persons pursuing competition level skills. For more information, please visit the Bayou Jiu Jitus website at https://bayoujiujitsu.us