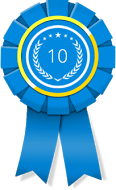 SAN DIEGO (PRWEB) April 27, 2018
10 Best Design recently identified the winners of its Best San Diego Web Design awards for April 2018, revealing Jacob Tyler as the winner of the top prize.
This is a new monthly award that honors 10 web design firms based on a set of criteria that includes client satisfaction and the quality of each firm's overall portfolio of websites designed. Only the most well-regarded web design firms in the San Diego area were considered for this prestigious award. Therefore, the 10 firms represented on the list of awards winners are truly the best of the best. Here is a summary of the top three winners.
The best San Diego web design business for this month is Jacob Tyler. With nearly 20 years of experience in the field, Jacob Tyler is a top web design firm that knows how to meet clients' broad needs. In addition to providing web design services, Jacob Tyler works in the areas of copywriting, digital marketing and brand development.
The professionals at Jacob Tyler believe in putting the customer's needs at the forefront of all that they do. Each customer receives personalized attention throughout the web design process. Jacob Tyler has provided web design services for both small companies and large corporations. Among the firm's clients are some of the most prominent corporations in the world.
Holding the second position on this month's list of best web design firms is OP Web Design. This firm recently moved its operations to the San Diego area. While it provides services to companies of all sizes, OP Web Design specializes in working with small companies in the San Diego area.
The team members at OP Web Design have the goal of providing clients with an online presence that will increase the number of visitors that their website receives. The goal is to keep visitors on the website so they are turned into customers for the client.
In third position on the list of top San Diego web design businesses for the month of April is Storm Brain. In addition to its offices in San Diego, Storm Brain helps clients from its locations in Costa Mesa and Santa Monica. The firm assist clients in the areas of search engine optimization, graphic design and web design and development.
Storm Brain always works to create a website that is unique for the client. They offer multiple web design packages, and they are available for continuing support for each client served.
To learn more about any of this month's award-winning web design firms, visit http://www.10bestdesign.com.