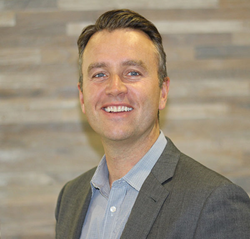 "I am thrilled and honored to have been selected as a semi-finalist for this award. While this does reflect my commitment, our success would not be possible without the shared dedication and hard work of our team." - Tim Gleeson
SAN DIEGO (PRWEB) April 26, 2018
Novasyte, the innovative outsourcing leader for device, diagnostic and drug manufacturers, today announced that Chairman and CEO, Tim Gleeson, has been selected as a semi-finalist in the Ernst & Young Entrepreneur Of The Year 2018 San Diego Regional Awards program.
Under Gleeson's guidance, Novasyte has experienced tremendous growth and developed lasting partnerships with many of the largest, global medical device, diagnostic and pharmaceutical companies. The company innovates new technologies and maintains a strong commitment to quality — offering clients flexible solutions and unparalleled, measurable results.
Now celebrating its 32nd year, the awards program recognizes entrepreneurs in over 145 cities and 60 countries who demonstrate excellence and extraordinary success in areas such as innovation, financial performance and personal commitment to their business and communities.
"I am thrilled and honored to have been selected as a semi-finalist for this award," said Tim Gleeson, Chairman and CEO. "While this does reflect my commitment, our success would not be possible without the shared dedication and hard work of our team. Their unwavering drive for exceptional customer service powers our growth and energizes our culture. It's an exciting time here at Novasyte."
Gleeson was selected as a semifinalist by a panel of independent judges. Finalists will be announced mid-May and winners will be announced at the Regional Awards Gala on June 7, 2018 at the Fairmont Grand Del Mar. Winners will then move on to the national awards program.
About EY
The Entrepreneur Of The Year program, founded by EY, has recognized the endeavors of exceptional men and women who create the products and services that keep our worldwide economy moving forward. Since its inception, Entrepreneur Of The Year has grown dramatically and now includes programs in more than 145 cities and more than 60 countries worldwide. The Entrepreneur Of The Year US Awards gala is the culminating event of the Strategic Growth Forum, the largest gathering of entrepreneurs in America.
About Novasyte
Novasyte partners with device, diagnostic and drug manufacturers, offering outsourced commercial service teams and technologies. Our flexible model enables us to build, deploy and manage teams that expand and contract to meet our clients' customer-facing needs. Program success is tracked and measured with our real-time business intelligence analytics that provide our clients with critical insights into their most important resources — their people and their customers.