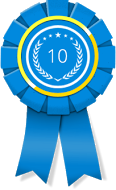 NEW YORK, N.Y. (PRWEB) April 25, 2018
10 Best Design is honored to present its Best Branding Agency awards for April 2018, selecting the highly-rated Arhue among the winners.
This award category is significant due to its impact on the industry. Branding is highly important for any company across the modern world, whether they are manufacturing products from scratch, or resellers of finished goods on the world wide web. Without being able to leave one's literal mark to potential customers and proven buyers, it is difficult to establish a competitive advantage over others in one's line of business.
That's where branding comes in. Without branding, it would be virtually impossible for companies across the United States to establish groups of customers that consistently make purchases with their business.
Unfortunately, finding out what companies are the best service providers has proven to be difficult for companies around the nation. However, thanks to the experts at San Francisco-based 10 Best Design, companies now have the ability to identify potential providers more easily. Using 10 Best Design's research and feedback, they can determine which companies are the most reputable when it comes to branding both in person and on the world wide web.
Every month, 10 Best Design publishes a new list of companies that it thinks are the very best firms in fields of various interests. This month, it named ten firms that it considers to be the best branding agencies in the country. Here is a rundown on the top three firms identified by 10 Best Design.
In first place on the list of the best branding agencies for April is Ruckus Marketing, which maintains a corporate headquarters in New York City, New York. The firm is often considered the top branding agency in both its area and the United States, or at least among contention for that top spot. This makes Ruckus Marketing the ideal company to help businesses.
Coming in third as a leading branding agency, Arhue has a rating of 97 percent in terms of customer satisfaction on 10 Best Design's official website. The company is located in San Francisco, California, where it offers a variety of specialized services. It is considered to be an exceptional digital agency and has helped clients including Google, Wired, Salesforce, and the National Football League.
SPINX Digital, which is based in Los Angeles, California, earned the third spot in this month's ranking. As a top branding company, SPINX Digital has helped clients like CBS, GE Healthcare Camden Group, and Beats By Dre. It, just like the other two, is a frequent find on these lists.
For more details about this month's top branding agencies, visit http://www.10bestdesign.com.