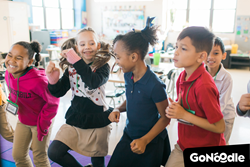 "With over 3.8 million minutes logged this school year, our students are moving and groovin' their way to better health. We couldn't be more pleased with this initiative to keep Lafayette kids more active!" - Jim Schellman, VP of Mission Integration, Our Lady of Lourdes
LAFAYETTE, La. (PRWEB) April 26, 2018
Our Lady of Lourdes Regional Medical Center and Woman's Foundation partner with GoNoodle to get 18,000+ elementary age kids in the Lafayette Parish School System moving more at school and at home. GoNoodle's online movement videos and games get kids running, jumping, dancing, stretching, and practicing moments of mindfulness right next to their desks. Grounded in research, GoNoodle delivers proven results by bettering behavior, more focused time-on-task, and improved academic performance. Now in the fifth year of the partnership, a celebration of the success of the program was held at Our Lady of Lourdes Regional Medical Center on Wednesday, April 25th.
All teachers in Lafayette Parish School System were invited to this celebration, and awards were given out to the teachers who logged the most minutes of physical activity for their students this school year.
"What an honor to recognize teachers for the work they do to keep physical activity in their classrooms with the GoNoodle Plus platform," says Jim Schellman, Vice President of Mission Integration at Our Lady of Lourdes. "With over 3.8 million minutes logged this school year, our students are moving and groovin' their way to better health. We couldn't be more pleased with this initiative to keep Lafayette kids more active!"
"We are proud to offer GoNoodle Plus to all of the teachers and students in the Lafayette Parish School System," says Amy Broussard, Executive Director of Woman's Foundation. "Woman's Foundation is focused on helping families develop healthy lifestyle habits to improve their quality of life. GoNoodle provides kids with a positive experience in physical activity and helps to increase test scores by learning through movement."
Fully funded by the two organizations, the goal of this partnership is to increase physical activity amongst kids. GoNoodle has hundreds of movement and mindfulness videos, and GoNoodle Plus, the premium version provided by Our Lady of Lourdes Regional Medical Center and Woman's Foundation, includes additional games that bring movement and core-subjects together to develop fluency in grade-specific math and ELA topics. With GoNoodle Plus, Lafayette Parish elementary teachers have the ability to customize GoNoodle content, which further supports their lesson plans and academic goals of the classroom. Teachers and parents can sign up for free at gonoodle.com.
About Our Lady of Lourdes Regional Medical Center
Founded by the Franciscan Missionaries of Our Lady in 1949, Our Lady of Lourdes is a regional acute care medical center focused on the healing ministry of Jesus Christ. The hospital employs more than 1,500 people and offers a physician staff of over 400 doctors in a variety of medical and surgical specialties. As a local healthcare leader, Lourdes provides a wide-ranging network of facilities and services including Centers of Excellence in the areas of Orthopedics, Stroke and a Robotics Surgery Program.  The hospital is home to the only burn unit in Southwest Louisiana and a Commission on Cancer accredited oncology program.
 
About Woman's Foundation, Inc.
Founded in 1980, Woman's Foundation is dedicated to promoting the total well-being of women and their families. Woman's Foundation strives to serve as a center of excellence by providing learning opportunities for professionals and individuals through collaborations and partnerships focusing on expertise and credibility. Health and wellness programs for families include Body Talk, Beyond Body Talk, Safe Sitter, Kids on the Geaux and Teens with Life Choices. In addition, Woman's Foundation is accredited by Louisiana State Medical Society to issue AMA PRA Category 1™ credits to physicians and other healthcare providers. For more information visit http://www.womansfoundation.org.
About GoNoodle
GoNoodle (launched in 2013), gets kids moving to be their smartest, strongest, bravest, silliest, bestest selves. GoNoodle is among the fastest adopted online resources used by elementary teachers; connecting movement, mindfulness and learning for their students. Delivering measurable gains in academics and health, GoNoodle's 100's of short interactive videos and games get kids moving throughout the school day, keeping them energized and focused, while introducing curricular topics, practicing mindfulness or just getting the wiggles out. GoNoodle supports teachers in optimizing learning opportunities while creating a joyful classroom. Currently, more than 14 million kids and over 650,000 teachers use GoNoodle each month. GoNoodle is used in 80% of U.S. public elementary schools in all 50 states and worldwide in 185 countries. Over 2 million families use GoNoodle at home, turning screen time into active time, either through gonoodle.com, apps for the iPhone and Apple TV and through the GoNoodle YouTube channel. Learn more at http://www.gonoodle.com.