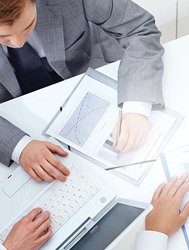 SAN JOSE, Calif. (PRWEB) April 25, 2018
August Consulting Inc. today announced a partnership with Automation Anywhere to help companies drive new efficiencies by delivering solutions that assist employees with routine, data-intensive tasks. The partnership is intended to make it easier for companies to improve processes across their enterprises and free employees to focus their time on more creative and customer-facing aspects of their jobs.
As part of the partnership agreement, August Consulting plans to integrate Automation Anywhere's Robotic Process Automation (RPA) platform, used to create software bots to handle repetitive, task-based business processes, with Oracle EBS and SAP software platforms.
The partnership and new bots for these platforms will enable clients to use Automation Anywhere's RPA platform to create software bots that execute tasks within Oracle EBS and SAP customers processes. The partnership aims to provide companies with software bots to streamline digital tasks across more of their processes, whether running in the cloud or on-premises systems.
The new bots will be particularly relevant to companies where employees routinely have to manually complete tasks within business processes. These are especially prevalent in the software, banking, financial services, insurance and healthcare industries which have data-intensive, manual processes, such as fulfilling orders, filing insurance claims, processing bank loans, paying vendors for services and opening customer accounts.
For example, a software company could use Automation Anywhere's platform to build software bots to streamline the processing of new accounts. The software company could create a bot that helps complete the application by automatically capturing data from different files or even emails submitted by the applicant. Or insurance companies using Automation Anywhere's RPA solution could use August Consulting bots to improve responsiveness and customer satisfaction. The result in both cases could lead to faster turnaround times for approvals and reduced errors associated with managing business processes manually.
Large global enterprises are using Automation Anywhere. The Automation Anywhere RPA platform helps with back-office functions, such as underwriting, billing, and claims. August Consulting with bots that have been created can help manage larger system-wide processes, such as new business quoting/orders and policy administration.
The integration of the August Consulting bots and Automation Anywhere technologies creates a powerful new option for companies to improve processes.
For more about August Consulting Inc. visit here.
For more about Automation Anywhere, visit here.
Contact(s) information
Pawan Singh: pawan.singh@augustconsulting.net
George Bennett: george.bennett@augustconsulting.net
408-464-0565