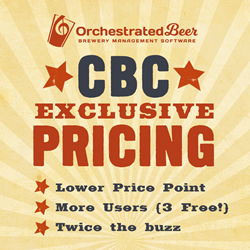 "OrchestratedBEER empowers craft breweries to make the best business decisions through an all-in-one solution, delivering a single source of the truth."
(PRWEB) April 26, 2018
OrchestratedBEER, a true all-in-one brewery management solution, will be presenting its latest product innovations and event exclusive pricing at booth 2424.
"The 2018 Craft Brewers Conference aligns perfectly with our new strategy: to explain why we do what we do and how we're different," said OrchestratedBEER CEO, Brad Windecker. "Brewery management software solutions today all engage in the same feature war strategies that ultimately end up 'commoditizing' themselves. OrchestratedBEER empowers craft breweries to make the best business decisions through an all-in-one solution, delivering a single source of the truth."
For a limited time, new brewery customers can take advantage of OBeer's lower CBC Exclusive Pricing, which includes 3 free users. This enables breweries of all sizes to empower its users to make the best business decisions using a single source of the truth.
Existing customers can tap into CBC exclusive offers that include discounts on popular add-ons, such as the Distributor Portal.
Additionally, OrchestratedBEER will host a speaking session addressing how breweries can make the best business decisions in today's rapidly evolving industry. The session will feature a panel of current OrchestratedBEER users, including Jason Heystek, Lead Guitar at Founders Brewing, Maegen Humes, The Dudette at The Dudes Brewing, and Matt Robbins CFO/COO of Trim Tab Brewing. The session, titled "OrchestratedBEER: A Single Source of the Truth," will take place Wednesday, May 2nd from 11:30am to 1pm at the Music City Center, in Room 204.
Be sure to stop by booth 2424 at the Craft Brewers Conference or visit http://info.orchestratedbeer.com/cbc for more information.
About OrchestratedBEER
OrchestratedBEER empowers breweries to make the best business decisions through an all-in-one solution, delivering a single source of the truth. OrchestratedBEER manages every aspect of your brewery, from accounting in the back office to iPads on the production floor. OrchestratedBEER is developed, supported and maintained by Orchestra Software under one roof in Beaverton, Ore.
About Orchestra Software
Founded in 2008, Orchestra Software provides craft beverage makers with an all-in-one business management solution, enabling you to "Conduct Your Craft," from grain to glass. Orchestra Software has received numerous awards from both global companies and local organizations including SAP, Inc.5000, and Portland Business Journal.