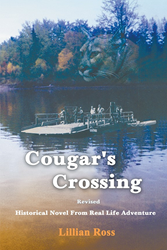 "To read a book by Lillian Ross is to travel to another time and place with characters who quickly become family. ...Ross weaves a poignant drama of wounded love, jealousy and human emotion." – Corrine McConchie, Vancouver librarian
(PRWEB) April 26, 2018
A real-life adventure – and murder story – is recounted in Lillian Ross' action-packed "Cougar's Crossing – Revised: Historical Novel from Real Life Adventure."
"Could this be 'his' remains, we wondered? The hated man who killed our Aunt Florence in 1921? … The facts were overwhelming – more fascinating than we ever imagined. Now the story of 'Cougar's Crossing' would have to be changed."
The loud, brash, irreverent Cougar Wright who came from Wisconsin and the forests of Washington, swore like a trooper, and didn't believe in a higher power than his own strength. But he loved his family and wanted them to join him in his struggle to tame the Canadian wilderness. His family's dance with destiny in Alberta's Northwest would shake his world and theirs, as it comes to life in this unforgettable tale with a mysterious twist. His story is filled with romance, adventure, and even a ghost!
Watch the video at: https://www.youtube.com/watch?v=0l8R0HkjRxY
About the Author: Lillian Ross earned a bachelor's degree in education from the University of Alberta and taught for many years before retiring to pursue her writing. Her husband, Reg, and their two sons lived in Northwestern Alberta and worked in the oil fields. She and her husband played in a dance band. She now sings and plays guitar with a women's band called The Hinge. Her other historical novels are "The Gentle Gamblers," "The Tender Years," "A Full House," "Mewassin: The Good Land," "Gandy Dancer," and "I Kept Falling in the Sink."
"This story just keeps getting better and better. Read the latest police background on a century-old murder! We are proud to announce this updated book's release," – Robert Fletcher, CEO of Strategic Book Publishing and Rights Agency
"To read a book by Lillian Ross is to travel to another time and place with characters who quickly become family. Read this true-to-life novel to feel the essence of the rugged era on the Canadian prairies … raw, messy, inspired by hope and motivated by grit. Ross weaves a poignant drama of wounded love, jealousy and human emotion." – Corrine McConchie, Vancouver librarian
COUGAR'S CROSSING – REVISED: HISTORICAL NOVEL FROM REAL LIFE ADVENTURE (ISBN: 978-1-946540-59-1) is now available for $31 and can be ordered through the publisher's website:
http://sbprabooks.com/LillianRoss or at Amazon.com or Barnesandnoble.com.
WHOLESALERS: This book is distributed by Ingram Books and other wholesale distributors. Contact your representative with the ISBN for purchase. Wholesale purchase for retailers, universities, libraries, and other organizations is also available through the publisher; please email bookorder(at)sbpra(dot)net.