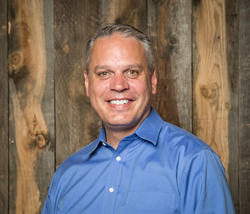 The award really could be renamed the 'Enterprise of the Year' because it truly takes an enterprise of people to be successful.
Lehi, UT (PRWEB) April 26, 2018
EY recently announced Xyngular CEO Russ Fletcher as a finalist for the Entrepreneur Of The Year ® 2018 Awards in the Utah Region. As the world's most prestigious business awards program for entrepreneurs, Entrepreneur Of The Year recognizes business leaders who are excelling in areas such as innovation, financial performance and personal commitment to their businesses and communities.
"I am truly humbled to be chosen as an Entrepreneur of The Year finalist," said Fletcher. "The award really could be renamed the 'Enterprise of the Year' because it truly takes an enterprise of people to be successful. At Xyngular we have a culture of only hiring A players, and I believe we have assembled the best team in the industry. We really believe in our mission to empower change in our members' and distributors' lives and it's heartening to see our members and distributors doing just that. This recognition is yet another milestone of the Becoming More movement."
In 2014, Fletcher became CEO of Xyngular and in the past three years has led the company to its most profitable period in company history. Xyngular posted double-digit revenue growth in 2015 and 2016, and in 2017 finished the year with almost 70% growth.
With an engineering degree from MIT and an MBA from Brigham Young University, Fletcher started a distinguished, leadership driven career. He has held director and VP-level positions in companies like XanGo and NuSkin, where Fletcher developed a philosophy based on extreme openness, clarity, and empowering individuals to do more than they believed possible. Prior to joining Xyngular, Fletcher became a nationally-recognized authority on the Agile methodology and philosophy. He has consulted with many companies large and small including Harvard University and the U.S. Federal Government on innovative uses of the system, a system Fletcher has also successfully implemented throughout Xyngular with great success.
Fletcher was selected as a finalist by a panel of independent judges. Award winners will be announced at a special black-tie Gala on Saturday, June 2, 2018, at The Grand America Hotel in Salt Lake City. Regional award winners are eligible for consideration for the Entrepreneur Of The Year National competition. Award winners in several national categories, as well as the Entrepreneur Of The Year National Overall Award winner, will be announced at the Entrepreneur Of The Year National Awards gala in Palm Springs, California, on November 17, 2018.
About Xyngular
Xyngular is about becoming more. Founded in 2009, Xyngular features health- changing, wellness-driven products designed to help empower change in people. Xyngular's product development system ensures Xyngular formulas feature the purest, most potent ingredients that are manufactured to the highest level of quality, and in 2017 was awarded the Best Weight Loss Management Product for Trimstix. The company is founded on family values with a supportive community of purpose-driven individuals dedicated to helping people become more. Xyngular currently sells its products through a network of sales leaders in the United States, Canada, the Philippines, and Caribbean. In 2017, Xyngular was selected as one of Utah's Best Companies to Work For by Utah Business Magazine and a 2018 Best Places to Work in Direct Selling from Direct Selling News. To learn more about Xyngular visit http://www.xyngular.com.
About Entrepreneur Of The Year ®
Entrepreneur Of The Year ® founded by EY, is the world's most prestigious business awards program for entrepreneurs, chosen from an independent panel of judges including entrepreneurs and prominent leaders from business, finance, and the local community. The program makes a difference through the way it encourages entrepreneurial activity among those with potential and recognizes the contribution of people who inspire others with their vision, leadership and achievement. As the first and only truly global awards program of its kind, Entrepreneur Of The Year celebrates those who are building and leading successful, growing and dynamic businesses, recognizing them through regional, national and global awards programs in more than 145 cities and more than 60\ countries. ey.com/eoy
About EY
EY is a global leader in assurance, tax, transaction and advisory services. The insights and quality services we deliver help build trust and confidence in the capital markets and in economies the world over. We develop outstanding leaders who team to deliver on our promises to all of our stakeholders. In so doing, we play a critical role in building a better working world for our people, for our clients and for our communities.
EY refers to the global organization, and may refer to one or more, of the member firms of Ernst & Young Global Limited, each of which is a separate legal entity. Ernst & Young Global Limited, a UK company limited by guarantee, does not provide services to clients. For more information about our organization, please visit ey.com.