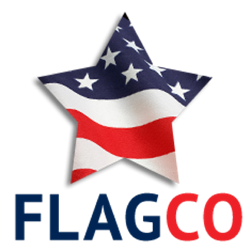 ATLANTA (PRWEB) April 25, 2018
The Flag Company, Inc., one of the most traditional flag distributors in the United States, is releasing updated guidelines on how to choose the ideal fabric for a flag, as well as the best care instructions.
There are three main materials used to manufacture flags: Nylon, Polyester, and Cotton. Each one has its benefits and downsides, and should be chosen according to the usage of the flag, as well as the level of maintenance desired.
Nylon flags are the most popular ones, due to the affordability and versatility of the material. Nylon flags have a silky feel, they are usually thin, and will brightly display colors, giving an attractive appearance. Nylon flags are suitable for both indoor and outdoor display, and being such a light material, they will fly with even a very low breeze.
The lightness of the fabric can also be a problem, as these flags are not intended to fly in heavy winds. Nylon flags are usually not as long-lasting as other materials, such as polyester.
Polyester flags are by far the most durable ones. This tougher material can feel rougher than nylon, and won't be as shiny, but it will retain the original colors for a longer time.
The polyester flags are best suited for outdoor use, given its long lifespan, and can fly in more extreme weather conditions. On the other hand, the heavier material also requires stronger breezes to fly these flags.
Lastly, there are cotton flags. Cotton is best suited for indoor environments and it's a very popular choice for presentation and ceremonial uses, with its rich, vibrant colors.
For outdoor usage, they are not very practical, but will still look beautiful, so long as the environment is assessed accordingly.
Cotton flags displayed outside may require more maintenance, due to how easily they can wrinkle, and because the material is not very effective at wicking excess water.
For milder environments – or for flying flags on special occasions – the American Cotton Flag will showcase the richest, most vibrant colors.
The Flag Company, Inc. offers great options for flags in all these materials, for both indoor and outdoor usage. The American Nylon Flag is the ideal choice for Nylon flags, with reinforced seams and extra-stitched fly ends for great durability.
For customers looking to buy a flag with longer lifespan, the American Duratex Tricot Knit Polyester Flag will provide longer usage, while retaining its original colors.
The lightweight tricot knit polyester material flies easier than 2-ply polyester, repelling water just as efficiently as nylon.
All these flags are proudly made in the USA and sold by The Flag Company, Inc., direct to consumers on their flagco.com website, where people can also find very interesting content on the history of the American Flag, the Freedom to Display the American Flag Act of 2005, as well as the proper care for a flag, regardless of the material it's made of, or for indoor or outdoor use.
About The Flag Company, Inc.
Located in Acworth, Georgia, The Flag Company, Inc. has been locally owned and operated since 1989, being recognized for their customer excellence and high-quality product standards, made in the USA. They've been operating their web store since 1996, making them one of the pioneer e-commerce sites on the web.
The Flag Company, Inc. began by providing flags to the real estate and oil industries. From there, the company grew to other areas, always selling the best quality products at very reasonable prices. Carrying a wide array of international, military, message, religious, and nautical flags, The Flag Company, Inc. positioned itself as the world's best online source for all flags and accessories.
Catering to commercial and residential customers, The Flag Company, Inc. provides an extensive inventory of over 8,500 items. The Flag Company, Inc. also partnered with a dedicated machine and manufacturing company to expand its capability to provide custom brackets, finials, hardware and other similar products for special orders.
Today, The Flag Company, Inc. runs on five major divisions, including Flags, Flagpoles, Lighting, Graphic Design (Custom Flag printing), and Warehouse & Shipping.