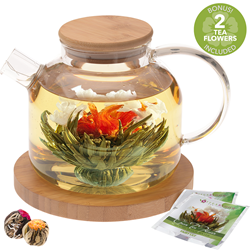 The Perfect Gift for the Perfect Mother
(PRWEB) April 25, 2018
Teabloom, a South Florida tea company renowned for discerning products, quality and value, has announced the addition of three new tea gift sets to help show Mom how special she is, just in time for Mother's Day 2018.
The first gift set of note is the Wings of Love blooming tea set. It features a uniquely designed 40-oz. glass teapot complete with a multicolored butterfly sitting atop the lid. The infinity symbol spanning the teapot's body tells a message of eternal love, while the included flowering green tea allows the beauty of flowers to unfold right before Mom's eyes.
The second addition to Teabloom's inventory is the Bamboo Teapot and flowering tea gift set. This tea gift set includes a stunning minimalist 40-oz. glass teapot with a bamboo lid. The set includes a stainless steel tea strainer, as well as two individually sealed flowering tea blooms. A large, matching bamboo trivet with an engraved message that reads "Timeless Moments" is sold separately but can be purchased with the gift set for additional savings.
Finally, the Double Wall Infuser Mug and blooming tea set is perfect for moms who want to relax and savor the perfect cup of tea. It features a stunning 15-oz. double-walled, glass mug, a stainless steel tea strainer, and a silicone-wrapped glass lid, as well as two flowering tea blooms. Note that the mug is stovetop and dishwasher safe, and the stainless steel infuser is simple and easy to clean.
Each of the three tea gifts includes everything needed to enjoy an incomparable cup of tea, and all glass items are hand-blown by artisan craftsmen. Each tea bloom is hand-selected for its aroma and flavor, as well as the beauty offered by watching the bloom unfurl within the teapot or mug.
To learn more about Teabloom, or the company's wide range of high-quality teas and tea gift sets, visit https://Teabloom.com.
About Teabloom: Teabloom was founded by John Romano on the simple idea that tea could be healthy, enjoyable and memorable, while bringing people together through shared experiences. The company focuses on sourcing the highest quality teas, and ensuring the perfect cup is brewed each and every time.