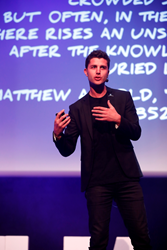 "Ben Nemtin is a masterful storyteller and speaker, who has a remarkable way of connecting with audiences and using his life and "bucket list" adventures to help and inspire others!"
MEMPHIS, Tenn. (PRWEB) April 25, 2018
What Do You Want to Do Before You Die?, the #1 New York Times bestselling book by Ben Nemtin, Dave Lingwood, Duncan Penn, and Jonnie Penn (of The Buried Life), will be published in paperback on May 1st, 2018 by Artisan Books.
In the summer of 2006, four best friends embarked on a two-week road trip to complete a list of 100 things to do before they die and to encourage others to do the same. Twelve years, an MTV show, and basketball game with President Obama later, they are still crossing off items, fulfilling their dreams, and inspiring others all around the world.
Ben Nemtin, co-founder of The Buried Life is now a motivational speaker, traveling the globe and inspiring others to fulfill their own dreams. Jeremy Park, CEO of cityCURRENT in Memphis, TN, said, "Ben Nemtin is a masterful storyteller and speaker, who has a remarkable way of connecting with audiences and using his life and "bucket list" adventures to help and inspire others!"
He continues, "You'll find that watching Ben is like watching a movie where he combines personal stories with media to make you laugh, cry, learn, and then want to act to take control of your life and make a difference in the lives of others."
Speaking of movies, Ben and his friends are currently working on #73 on their list, "Make a Movie". The Buried Life documentary film is set to release sometime in 2019.
For more information on Ben Nemtin and The Buried Life Movement, contact Executive Speakers Bureau at (901) 754-9404 or visit http://executivespeakers.com/speaker/Ben_Nemtin.
BEN'S STORY (excerpt from the book)
After high school, my whole world was turned upside down after I was blindsided with a debilitating depression. After a year in university, I dropped out, I stopped hanging out with my friends, and I stopped playing sports. I had made the U-19 national rugby team and was invited to the World Cup in France, but I said I couldn't play because of an injury. That was lie. The truth was, I couldn't sleep at night. My anxiety had gotten so bad that I couldn't leave the house. I would pace around the front hall, but couldn't muster the courage to go out the front door. I remember getting so frightened at night that I couldn't believe the feeling was real.
That summer, a group of friends pulled me out of my house and told me I was joining them to live and work in another town for the summer. They didn't give me a choice. Once I was in a new environment, I was forced to start doing things for myself again. I had to get a job, I had to meet new people—I had to leave the cocoon I had spun myself. Little by little, I slowly started coming out of my fog.
That summer, I learned how to get back up after you hit rock bottom. I learned that if I talked about my struggles, they held less power over me. I realized that I had control over the choices I made and the people I hung out with. From then on, I made a pact to only surround myself with people that inspired me. It was a seemingly small shift that had a colossal impact.
I called Jonnie because he was the most inspiring kid I knew. He made movies so I asked him if he wanted to make one together. Once Jonnie agreed, Dave and Duncan joined shortly after.
We didn't tell anyone what we were up to because we didn't know how to explain it—what we shared was just a feeling. We moved forward without a plan. All we had was the list, a borrowed unreliable RV and a production company we fabricated to raise money for our camera. I made up a wedding to get enough time off of work, and we were ready for our two-week journey. That final night we sat on the curb beside the RV arguing about whether we should cancel the trip because if the RV broke down, we didn't have the money to tow it home. We almost didn't leave.
In the beginning, we put items on the list for a laugh. We pretended we were unstoppable and wrote down whatever popped into our head. Jonnie called me one day to say we should add "Play Ball with President Obama" to the list. I laughed because it was the most impossible list item I could think of. Yet, somehow, a few years later we found ourselves in the backyard of the White House shooting hoops with the president. And somehow "#53: Make a TV Show" and "#19: Write a #1 New York Times Bestselling Book" also happened. As Nelson Mandela says, "It always seems impossible until it's done."
We stumbled upon a bucket list at a young age and it has slowly evolved into a lifestyle of intention. In its simplest form, a bucket list is a record of the most important goals in your life – the things that you are certain will bring you the most joy and fulfillment. Sometimes these goals change over time but the list itself is simply a device reminding you that your dreams exist. Without a physical reminder, dreams are left unattended and they tend to get buried.
ABOUT EXECUTIVE SPEAKERS BUREAU
Executive Speakers Bureau is proud to exclusively represent Ben Nemtin for all keynote speaking engagements. We are a full-service speakers bureau, taking pride in our ability to provide world-class service as well as our ability to deliver today's foremost professional speakers and expert trainers to clients around the world. It is our commitment to provide our clients with unparalleled service, access to hundreds of motivational speakers worldwide and individualized personal attention. For more information, visit http://www.executivespeakers.com or call us at (901) 754-9404.