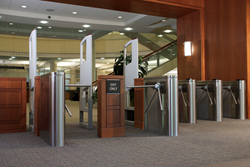 The result of the new design is that the operating noise of the turnstile during passage is reduced from 86 decibels down to 73 decibels...
LILLINGTON, N.C. (PRWEB) April 25, 2018
Boon Edam Inc., a global leader in security entrances and architectural revolving doors, today announced that its Trilock 60 and Trilock 75 turnstiles have a completely re-engineered internal mechanism that operates more smoothly and with an exceptionally quiet operation during use, when the arms are rotating into the next position.
The turnstiles are quieter than before because the interior ratcheting and locking mechanism (which controls rotation of the arms to allow a single authorized passage) now has a redesigned shape while maintaining a secure functionality. In addition, rubber dampeners are used on certain contact surfaces to reduce the noise level of the standard "clicking" noise that turnstiles make. The result of the new design is that the operating noise of the turnstile during passage is reduced from 86 decibels down to 73 decibels, which is very noticeable in a side-by-side comparison.
Tripod turnstiles are known for their sturdy construction and ability to withstand the harshest of conditions, both indoors and outdoors. They are used to manage large crowds at stadiums, amusement parks, museums, and universities, for example. However, waist-high turnstiles are also used in high-end, corporate lobbies to deter tailgating, provided supervision is nearby. To blend in to these environments, they can include premium finishes, such as expensive stone on the tops of cabinets and bronze or custom paint on the sides of cabinets. High-end locations will appreciate the quieter action of these newly updated tripod turnstiles.
The new interior mechanism also is easier to build, install and service than before, creating efficiencies and cost savings for the customer during and after the purchase. In addition, older Trilock 60 and Trilock 75 turnstiles can be easily retrofitted with the new mechanism with a minimal amount of disruption or need for new parts.
"When we began redesigning the mechanism for the Trilocks, we wanted to improve the customer experience and also make the product easier to build and install," said Tom Schneider, Engineering Manager at Boon Edam Inc. "We're proud that we've created that 'win/win' and the benefits will impact thousands of end users around the globe. It's yet another reason to invest in products from Boon Edam."
For Further Information, Please Contact:
Tracie Thomas
Vice President of Marketing
T 910 814 8239
E tracie.thomas@boonedam.com
For Media Queries, Please Contact:
Sara Chaput, LRG
Public Relations
T 845 358 1801
E schaput@lrgmarketing.com
About Royal Boon Edam
With work environments becoming increasingly global and dynamic, the smart, safe entry has become the center of activity in and around many buildings. Royal Boon Edam is a global market leader in reliable entry solutions. Headquartered in the Netherlands, with 140 years of experience in engineering quality, we have gained extensive expertise in managing the transit of people through office buildings, airports, healthcare facilities, hotels and many other types of buildings. We are focused on providing an optimal, sustainable experience for our clients and their clients. By working together with you, our client, we help determine the exact requirements for the entry point in and around your building. Follow Boon Edam Inc. on Facebook, Twitter, LinkedIn and our blog and read the latest news at http://www.boonedam.us/news.