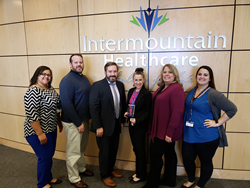 To be honored by Intermountain's Supply Chain Organization with this TAI award, speaks volumes to the overall value of the program to the healthcare system.
Irvine, CA (PRWEB) April 26, 2018
RightSourcing, the leading national provider of vendor-neutral contingent workforce management solutions for the healthcare industry, proudly announces it has been awarded 1st Place in the Customer Service category by Intermountain Healthcare's Supply Chain Organization (SCO) at the annual Totally Awesome Innovation (TAI) Awards.
RightSourcing's on-site managed services (MSP) and best-in-class vendor management system (VMS) received the top spot in the Customer Service Award category for operational excellence. Through actionable analytics, increased visibility and compliance best practices, the RightSourcing team helped Intermountain Healthcare realize over $2.4M in cost savings in 2017.
Intermountain Healthcare engaged RightSourcing as a consultant to address workforce challenges with innovative solutions. This was in part due to its unique position as a purely vendor-neutral MSP dedicated to the healthcare industry.
"To be honored by Intermountain's Supply Chain Organization with this TAI award, speaks volumes to the overall value of the program to the healthcare system," notes Leanne Oatman, President of RightSourcing. "By streamlining supplier contracts and leveraging our Strategy, Analytics and Metrics (SAM) team's competitive market rate intelligence, we were able to drive tremendous cost savings through rate benchmarking. At the same time, the quality scores from hiring managers showed significantly increased performance on quality of talent through the program."
Intermountain Healthcare gains additional visibility through customized Discovery Dashboard analytics. This interactive dashboard provides leadership with access to enterprise-level business intelligence to help drive informed decision-making. Leaders are able to assess what trends are occurring within the contingent workforce, why those trends are happening and forecast what is likely to happen in the future. The RightSourcing program also drives automated standard practices that outline the contingent worker hiring process from requisition opening and candidate submittal to compliance, time keeping and consolidated invoicing.
Additionally, Intermountain Healthcare receives critical third-party credentialing and compliance audits on each and every worker through the program. As a Joint Commission Certified organization, RightSourcing delivers compliance programs that prepare and support clients for healthcare regulatory agency audits, such as the Joint Commission.
RightSourcing is proud to be recognized as an integral partner with Intermountain Healthcare, ranked as the top healthcare organization in the U.S. in Gartner's annual Healthcare Supply Chain Top 25 rankings for the second consecutive year.
ABOUT INTERMOUNTAIN HEALTHCARE
Intermountain Healthcare is a Utah-based, not-for-profit system of 22 hospitals, a Medical Group with more than 1,600 physicians and advanced practice clinicians at about 180 clinics, a health plans division called SelectHealth, and other health services. Helping people live the healthiest lives possible, Intermountain is widely recognized as a leader in clinical quality improvement and in efficient healthcare delivery.
ABOUT RIGHTSOURCING
RightSourcing is the recognized authority in vendor-neutral workforce solutions for healthcare organizations, providing clinical and non-clinical solutions that positively impact patient care. Launched in 2001, we serve over 250 locations, managing over $2B in contract labor spend. As the industry's most-tenured managed service provider (MSP), we have proven success in reducing costs, mitigating risks and creating efficiencies across the entire spectrum of clinical and non-clinical workers. We offer a wide range of high-touch, comprehensive solutions to acute care and behavioral health organizations, including contingent labor procurement, statement-of-work service, worker on-boarding/off-boarding, compliance/credentialing verification, worker misclassification and co-employment risk avoidance, actionable business analytics and third-party payrolling.