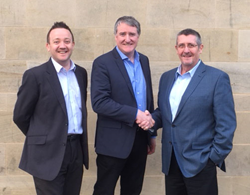 With the best-in-class SpotLight® troubleshooting solution CAD-IT will empower its global base of manufacturing customers and their maintenance organizations to improve first-time-fix rates while capturing field experience.
MISSISSAUGA, ONTARIO, Canada (PRWEB) April 26, 2018
CaseBank Technologies – a division of ATP, and the leading provider of troubleshooting and diagnostic solutions for complex equipment – today announced that it has entered into a partnership with CAD-IT Consultants (Asia) Pte Ltd. – a global technology solutions provider offering world-class services that enable companies and their supply chains to achieve greater product innovation, quality and productivity. With this partnership, CAD-IT will leverage CaseBank's industry-leading SpotLight® technology to offer manufacturers worldwide the most advanced troubleshooting solution that captures and shares field experience and deploys best practices to quickly isolate the cause of defects and performance issues.
The core of the partnership is a value-added-reseller agreement that was forged to jointly offer advanced software solutions and professional services for diagnosing, troubleshooting and repairing equipment. CAD-IT will sell, service, support and provide training for the CaseBank suite of software, globally, in all locations and industries where it has market presence.
"By leveraging CaseBank's innovative technology, CAD-IT will empower its global base of manufacturing customers and their maintenance organizations with insightful knowledge that makes it possible to resolve equipment performance issues," said Phil D'Eon, Senior Vice President of Strategy for ATP and CaseBank Technologies. "Our vision aligns closely with CAD-IT's vision, and this partnership will provide innovations that benefit our joint users and customers."
"The SpotLight troubleshooting solution is an outstanding addition to our toolset and offerings, because it complements and integrates seamlessly with everything we do," said Terence Chan, Co-founder and CEO, CAD-IT Global Business. "Our new partnership with CaseBank combines CAD-IT's global reach and technological expertise in servicing customers in various key industries with CaseBank's proficiency and strength in diagnostic and troubleshooting systems, which we expect will provide best-in-class solutions for our customers in Asia and throughout the world."
A product of CaseBank Technologies, the SpotLight® solution guides service technicians and call center personnel to optimize the troubleshooting process with unprecedented speed and accuracy, and it delivers critical insights into emerging failure modes and trends. By combining OEM engineering knowledge with the accumulating field experience of equipment maintainers through diagnostic reasoning technology, maintenance organizations are able to quickly identify the equipment failure modes and apply the proper solution to improve first-time-fix rates.
The SpotLight® solution effectively replaces the traditional fault isolation manual. It enables maintenance organizations to be more efficient in finding and fixing maintenance problems, and it permanently retains critical and perishable knowledge that is accrued by their experts in engineering and field service.
About CAD-IT
Formed in 1991 with a vision to be a global premier technology solutions provider, the CAD-IT group of companies has since built a customer base of over 2,000 engineering companies employing over 100,000 engineering professionals and has trained over 10,000 professionals. Ranked number 4 in the 2016 Singapore Enterprise 50 Award recognizing top privately held companies in Singapore and number 94 amongst Singapore 180,000 privately held local enterprises, CAD-IT currently has offices in Singapore, United Kingdom, USA, China, Malaysia, Hong Kong, Thailand, Vietnam and Indonesia. CAD-IT's mission is to provide world-class software solutions and services that enable companies and their supply chains to achieve greater product innovation, quality and productivity with drastically reduced time-to-market and cost. CAD-IT is the partner of the world's leading PLM/SLM/IoT technology providers, namely Ansys, Autodesk, PTC and Siemens PLM. For more information visit http://www.cadituk.com.
About CaseBank Technologies
CaseBank Technologies Inc., a Division of ATP, is the aviation industry's leading software and services company providing troubleshooting, reliability and defect trend analysis so engineering and service teams can accelerate equipment repair, increase uptime, reduce warranty costs and enhance product support and performance. Founded in 1998, CaseBank has deep roots in the aerospace and defense industries and has deployed solutions worldwide to support Fortune 1000 companies.
For more information visit http://www.casebank.com