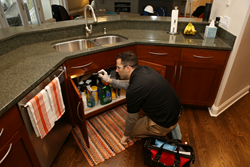 NAPERVILLE, Ill. (PRWEB) April 26, 2018
Spring-Green is excited to launch the new Total Home Pest Control, which will expand its pest control service to cover the entire inside of the home. Spring-Green has been providing traditional and organic fertilization as well as weed control services for over 40 years. Decades ago the company expanded services to include exterior home pest control and mosquito control. Through continued requests from customers, Spring-Green is expanding pest control services to include inside the home.
The new Total Home Pest Control takes a comprehensive approach by eliminating the pest population both inside and outside the home by eliminating the opportunity for re-entry. "This spring, pest control services will expand locally in our Naperville/Plainfield branch and then expand services to the Chicagoland market," said James Young, President of Spring-Green. "Adding Total Home Pest Control will create a seamless experience for customers who are concerned or have a pest issue that needs to be resolved."
The Total Home Pest Control service will establish a barrier inside and outside of the home which will help keep families' homes free of insects all year. This thorough, customized approach will help keep the home free of ants, roaches, spiders, earwigs and their pesky friends. The service also provides year-round protection that can be customized to ensure the program is a perfect match to each family's needs.
There are two basic programs, however both provide quarterly visits including inside and outside of your home. Total Home Pest + Rodent Control adds an additional element to help keep the home free of disease ridden rodents.
Several additional services can also be added to each program to create a truly customized approach which includes flea & tick and mosquito control. These applications are timed to ensure they provide maximum home protection for families.
Spring-Green's Total Home Pest Control comes with a guarantee that provides an added sense of security for homeowners and families. For more information on Total Home Pest Control please visit http://www.spring-greenpestcontrol.com.
About Spring-Green Lawn Care
Founded in 1977, Plainfield, Illinois based Spring-Green Lawn Care has been delivering lawn and tree care services nationwide for over 40 years. Its service is centered on the beautification of residential and commercial properties. For more information, visit http://www.spring-greenpestcontrol.com or http://www.spring-green.com