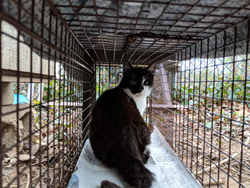 MOUNT RAINER, Md. (PRWEB) April 25, 2018
For over 20 years, Alley Cat Rescue (ACR) has been at the forefront of advocating for community cats and promoting their humane management through trap-neuter-return (TNR). ACR has assisted more than 40,000 cats and kittens through their adoption, TNR and spay/neuter programs. Now ACR wants to target the city of Los Angeles where an estimated 2-3 million feral cats live.
The city of Los Angeles is currently not allowed to implement or support TNR after a lawsuit by conservation groups. The city now needs to complete an environmental impact report on the effects of TNR as well as pass a new TNR program through the city council. In the meantime, it is up to groups like ACR to help the feral cats living on the streets.
The Los Angeles Animal Services department euthanizes more than 4,000 cats a year, including feral cats and unweaned kittens. TNR will help reduce these numbers by ending the cycle of reproduction and by moving healthy cats and kittens into adoption programs. In 2017, ACR TNR'ed 175 cats in Los Angeles and hopes to help even more cats this year. The money raised from the Saving Pets Challenge will be vital towards providing the resources needed to meet this goal.
ACR is fundraising for the Saving Pets Challenge hosted by Michelson Found Animals, a non-profit organization aimed at keeping pets in their homes. ACR is competing for the $50,000 challenge prize which goes to the top fundraiser. Director of Development Elizabeth Thomas says, "Funds raised during our campaign will be instrumental in saving cats in Los Angeles. We're thankful for our dedicated supporters who allow us to do the work that we do."
Help ACR achieve their goal by either donating to their Saving Pets Challenge campaign or becoming a fundraiser yourself here: https://www.crowdrise.com/o/en/campaign/alley-cat-rescue1
About Alley Cat Rescue: ACR is a national nonprofit organization dedicated to the welfare of all cats: domestic, stray, abandoned, and feral. ACR advocates for humane nonlethal control of community cats. ACR has been awarded the Independent Charities of America's "Best in America" Seal of Approval, and our newsletter has won several awards from the Cat Writers' Association. For more information, please visit our website http://www.saveacat.org.